Description

Rifampin is a broad-spectrum antibiotic often administered in combination with other antimicrobial agents in treating staphylococcal infections, Corynebacterium pseudotuberculosis, Rhodococcus equi, Streptococcus equi, S. equisimilis, and S. zooepidemicus isolates.
Because resistance to rifampin can develop quickly, it is often used in combination with other antimicrobials. The listed bacteria tend to cause abscesses, and rifampin has excellent penetration of most tissues, including bone and cerebral spinal fluid, as well as abscesses, making it a more potent drug. It is used extensively in combination with erythromycin for the treatment of Rhodococcus equi infections in foals.
Usage
Rifampin is used to treat foals and horses when a systemic antibacterial is needed to treat staphylococcal infections and eradicate pathogens located in difficult to reach target areas, such as abscesses.
Dosage and Administration
Rifampin
Method
Dosage
(click row for calculator)
Concentration
Period
Duration
Oral
5-10 mg/kg
150 mg/capsule
Daily
NA
Oral
5-10 mg/kg
300 mg/capsule
Daily
NA
For treatment of Rhodococcus Equi1
Oral
5 mg/kg
150 mg/capsule
Twice daily
NA
Oral
5 mg/kg
300 mg/capsule
Twice daily
NA

Notes:

1Use with erythromycin, azithomycin or clarithromycin
Federal law restricts this drug to use by or on the order of a licensed veterinarian.
Extra-label use of drugs in treating animals is allowable only by licensed veterinarians within the context of a valid veterinarian-client-patient relationship, and does not include drug use in treating animals by the layman (except under the supervision of a licensed veterinarian).
The duration of administration depends on the condition being treated, response to the medication and the development of any adverse effects. Be certain to complete the prescription unless specifically directed by your veterinarian. Even if your equine appears to feel better, the entire treatment plan should be completed to prevent relapse.
This medication may be available in forms and concentrations not noted in the above table. Always check the label and literature provided with the medication about the form and concentration and DO NOT USE the calculator if the information differs.
Calculator is for educational purposes only. Follow your veterinarian's instructions regarding use of this, or any medication.
Side Effects
Side effects are rare in horses. Occasionally, foals on rifampin and erythromycin may develop diarrhea and require prompt action.
Precautions
Rifampin may cause orange or red discoloration of urine or other bodily fluids, but is not harmful. Rifampin should be used with caution in animals with decreased liver function.
Rifampin is not FDA spproved for use with horses, but is commonly used and an accepted practice. It is a prescription drug and U.S. Federal law restricts this drug to use by or on the lawful written or oral order of a licensed veterinarian.
Although it is unlikely this drug would be used in competition horses, it would not be permitted in drug-free competitions. It is important to check with the individual regulatory agency in each case.
Interactions
Rifampin may increase the metabolism of some drugs that are also metabolized by the liver, including chloramphenicol, corticosteroids, and anticoagulants.
Overdose
Overdose increases the risk and severity of the mentioned side effects.
Images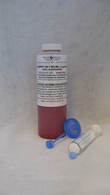 Rifampin Oral Suspension Liquid

Rifampin Tablets
Literature