Brand Names
Equisul-SDT
Tribessen 400 Oral Paste
Trissulfin Sulfamethoxazole/Trimethoprim Injection
Tucoprim Powder
Uniprim Powder
Description

Sulfadiazine/Trimethoprim - SMZ/TMP is a potentiated sulfonamide that is one of the most commonly used antimicrobials in the treatment of horses. Used as a combination drug it is more effective and has fewer side effects than when the drugs are used separately. In addition, although neither drug alone kills susceptible bacteria, when used in combination, they are bactericidal.
Usage
In horses, SMZ/TMP is used in the treatment of acute strangles, respiratory infections, equine protozoal myeloencephalitis, acute urogenital infections, wound infections, abscesses, and uterine infections. It is also used as a treatment or prevention of post parturient infections, including vaginitis and metritis.
Dosage and Administration
Sulfadiazine/Trimethoprim
Method
Dosage
(click row for calculator)
Concentration
Period
Duration
Oral (Equisul suspension)
24 mg/kg
1 mg/mg
Twice daily
10 days
Oral (Tucoprim powder)
75 mg/kg
1 mg/mg
Daily
5 to 7 days
Oral (paste)
75 mg/kg
15000 mg/syringe 4
Daily
5 to 7 days
Intraveneous or Intramuscular injection
24 mg/kg 1
480 mg/ml 5
Daily
5 to 7 days

Notes:

1Reference Baggot and Prescott 1987
5Each ml of injectible solution contains 400 mg sulfamethoxazole and 80 mg trimethoprim.
Federal law restricts this drug to use by or on the order of a licensed veterinarian.
Extra-label use of drugs in treating animals is allowable only by licensed veterinarians within the context of a valid veterinarian-client-patient relationship, and does not include drug use in treating animals by the layman (except under the supervision of a licensed veterinarian).
The duration of administration depends on the condition being treated, response to the medication and the development of any adverse effects. Be certain to complete the prescription unless specifically directed by your veterinarian. Even if your equine appears to feel better, the entire treatment plan should be completed to prevent relapse.
This medication may be available in forms and concentrations not noted in the above table. Always check the label and literature provided with the medication about the form and concentration and DO NOT USE the calculator if the information differs.
Calculator is for educational purposes only. Follow your veterinarian's instructions regarding use of this, or any medication.
Side Effects
Hypersensitivity reactions and hematologic effects, including anemias, thrombocytopenia, or leukopenias may occur.
The most common side effect is diarrhea.
When given as an injection, tissue damage at the site of the injection has been noted, and itching and other allergic reactions have occurred.
Rare fatalities have been reported after intravenous SMZ/TMP injections, but these reports are anecdotal and the direct cause is difficult to determine.
Precautions
SMZ/TMP should not be used in horses with liver damage, blood conditions, or in horses with a history of sulfonamide sensitivity.
Long-term usage should include periodic hematologic monitoring.
Transient pruritis has been noted after IV injection.
Sulfamethoxazole/Trimethoprim is not FDA-approved for use in horses, but it is commonly used and an accepted practice. Trimethoprim sulfadiazine is FDA-approved for use in horses.
SMZ/TMP is a prescription drug, restricted to use by or on the lawful written or oral order of a licensed veterinarian.
SMZ/TMP is not permitted in drug-free competitions. Check with the appropriate regulatory body regarding rules and regulations in competition horses.
Interactions
Increased risk of cardiac arrhythmia exists when used with detomidine, halthane, romifidine, or xylazine. (Vetstream).
SMZ/TMP can increase clotting time in horses on oral anticoagulants, such as warfarin.
Antacids can decrease the absorption of SMZ/TMP. Dosing of these medications should be separated by two hours.
Overdose
SMZ/TMP is generally a safe drug and no specific information is given on overdose in horses.
Images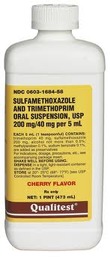 Sulfamethoxazole/Trimethoprim Suspension Liquic

Trissulfin Sulfamethoxazole/Trimethoprim Injection,
Literature