Through the American Horse Council's (AHC) work with the United States Department of Agriculture, the United States Animal Health Association, the American Society for the Prevention of Cruelty to Animals (ASPCA), and various equine organizations, we have identified the need for a universal equine microchip look-up tool to coordinate and streamline horse identification across multiple breeds.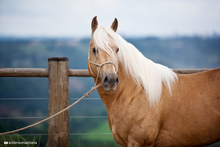 AHC is partnering with Jockey Club Technology Services to build a look-up tool for microchips in horses.
© 2010 by Anderson Santana
A universal microchip look-up tool would provide a single source where the general public and various organizations and emergency response teams could find the identity of a horse or the registry with which the microchip number is associated.
"Technology and public opinion have finally aligned to allow microchipping to become an efficient aid when identifying horses. Microchips are a safe and effective form of identity for sale, competition, or emergency response. We hope that by simplifying the method with which the public can verify a horse's identity, we can incentivize the country to look into microchipping their horses," stated AHC President Julie Broadway.
AHC has partnered with The Jockey Club Technology Services to build the look-up tool, and we are inviting all registries that collect and store equine microchip data to collaborate with us. The success of this effort will depend on its universality with all equine organizations. The ingestion of microchip data from the various organizations will be based on a well-defined process that will be as simple as possible to complete.
"AHC would like to thank the ASPCA for a generous grant to make the microchip look-up tool possible," Broadway said.
"The creation of the Equine Microchip Look-up Tool is a vital step to reaching the ASPCA's goal of ensuring all equines have good welfare," said Dr. Emily Weiss, vice president of ASPCA Equine Welfare. "The tool will not only help reunite horses with their owners during natural disasters, but it will also help to facilitate the growth of safety net programs where individuals who have owned, cared for or admired a horse can sign up to help that horse should he ever become at risk." The timeline for launch is fourth quarter 2018. Details to follow.
For additional information or questions, please contact Cliff Williamson, Director of Health and Regulatory Affairs @ cwilliamson@horsecouncil.org or AHC President Julie Broadway at jbroadway@horsecouncil.org