Many horse owners are also proud dog owners and the canine can present a kennel conundrum for the active competitor/clinician/coach who enjoys a busy travel itinerary with horse shows, clinics and family vacations.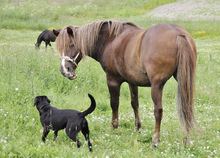 The necessity to travel off the farm presents a dog care issue for the horse owner, who might like to take their canine contingent along to the showgrounds or event.
© 201 by Smerikal
The necessity to travel off the farm presents a dog care issue for the horse owner, who might like to take their canine contingent along to the showgrounds or event, but knows that managing equines on the road can be challenging enough without adding a pack of dogs in the mix.
A bit like the advertisement for the potato chips, horse owners seem to find it hard to 'have just one' when it comes to dog ownership. There is a lot to be said for the companionship factor of keeping more than one dog on the farm, and when it comes time to hit the road the matter of where to put the wee or big beasties can present a problem.
During my career I have seen many options utilized for the dog dilemma. The most common being dogs left in stalls, securely shut in with no way out. A clean stall with rubber mats may deter the dog's persistent need to dig, a wood wall may be chewed due to frustration and boredom, and let's face it even with a thorough clean up afterward a cross over between horse and hound is not the most hygienic solution.
On return from a training trip in Florida to our base in New York, I went to check on our daughter's pony that we had stabled during our absence at a noted hunter/jumper barn, and was dismayed to find the trainer had utilized our very expensive winter turnout/stable blankets as bedding for his two big Dobermans to enjoy during their stall lock up times.
Let's just say I wasn't pleased! I appreciate we all want to do the best by our dogs, but perhaps there is a better solution.
While dog ownership has many sincere benefits, the need to provide accommodation and care for your canine(s) while you enjoy your horse loving lifestyle can also be prohibitively expensive if you determine to place them in a commercial kennel.
My recent two-week U.K. clinic tour cost over $750 in kennel fees and that was a competitive rate as our two black Labradors shared a large kennel space. When you add the expense and risks of multiple vaccines required (that may or may not be warranted if titer results are provided, but some commercial kennels won't accept titers), the costs and hassle exponentially expands.
On their return from kennel care our dogs are always stressed out and have lost weight. The kennel owner explained that like many dogs they stop eating during busy times at the kennel, upset by the noise and comings and goings of all the canine traffic. Unfortunately it is not always possible to leave our beloved pets in the care of family or friends and it's a big ask in any event, when folks have their own retinue of pets and other responsibilities to consider.
Many horse owners have help at the barn to come in and care for those horses still on the property during their absence, so placing their pets offsite doesn't make a lot of sense as the horse caregivers are often more than happy to take care of the dogs. But not everyone wants to leave their homes open for house sitting or access by others during their absence.
The answer to this 'kennel conundrum' is to purchase a well built, easy to care and clean, purpose designed kennel and place it on site. Horse farm owners often have the space on their property to incorporate a kennel with a pen, and the canines can enjoy access inside and out all day long.
It can even be set in a dog proof fenced area, so that the dogs can be let out to play during the staff's presence on the property. The kennel provides peace of mind to the dog owner with a safe and secure environment for the pet at all times.
Choose an experienced kennel builder that offers commercial level features as standard in their residential kennels, such as Glasbord walls and Polyurea coated floors. While you may find cheaper options at your local feed store, just like a horse barn all structures are not equal in craftsmanship, quality of materials used and professional design.
Every shape and size of dog can be accommodated but you do need to select the right size doors, housing and gauge of wire for your specific dog(s).
Many larger companies also offer financing, so you can enjoy the benefits of kennel ownership this show season. For best deals check their sales lots as these kennels are often discounted in price and can be delivered right away.
This article is brought to you courtesy of Horizon Structures Inc., Atglen PA – Modular horse barn and indoor riding arena specialists. Horizon Structures also offers both residential and commercial kennels, coops, multi-use structures and playsets. Please visit https://www.HorizonStructures.com to learn more.
About Horizon Structures: One horse or twenty, there's one thing all horse owners have in common...the need to provide safe and secure shelter for their equine partners. At Horizon Structures, we combine expert craftsmanship, top-of-the-line materials and smart "horse-friendly" design to create a full line of sheds and barns that any horse owner can feel confident is the right choice for their horses' stabling needs.
All wood. Amish Made. Most of our buildings are shipped 100% pre-built and ready for same-day use. Larger barns are a modular construction and can be ready for your horses in less than a week. All our barn packages include everything you need -
Horizon Structures also sells indoor riding arenas, chicken coops, dog kennels, 1 and 2 car garages, storage sheds and outdoor living structures.
Headquartered in South-Central Pennsylvania, Horizon Structures, LLC is owned by Dave Zook. Dave was raised in the Amish tradition and grew up working in the family-owned shed business. He started Horizon Structures in 2001 in response to an ever-increasing customer demand for high quality, affordable horse barns.
For additional information about the company or their product line, please visit their website at https://www.horizonstructures.com
About Nikki Alvin-Smith: International and national published freelance writer and photographer in such world renowned publications such as The Chronicle of the Horse, Horse and Hound, Dressage and CT, Warmbloods Today, The Horseman's Yankee Pedlar, Reiter, The Equine Journal, Spur, Hoofprints, Horsin' Around, Horses All, Field & Stream, Western Horse and Gun, Pony Quarterly, Horses All Canada, Catskill Horse to name a few. Ghostwriting, blog services, PR/Marketing copy either direct with manufacturer or for agencies, copy editing and editor services also available. Nikki also produces catalog copy, white papers, e-books, corporate brochures and advertising copy for international corporations and PR/Marketing for celebrities.
As a Brit who has called the America home for the past 34 years, Nikki brings a unique perspective to the equestrian world. Nikki is also an accomplished Grand Prix dressage trainer/competitor, competing at international Grand Prix level to scores over 72% and is a highly sought clinician offering clinics worldwide. She has been a horse breeder/importer of warmblood and Baroque breeds for more than 25 years. Together with her husband Paul who is also a Grand Prix trainer, they run Willowview Hill Farm, a private dressage breeding operation and training yard in the beautiful Catskill Mountains of New York. Please visit https://nikkialvinsmithstudio.com/ to learn more about her affordable services.