Horse Trails of America has announced the launch of their interactive horse trails and travel map. It is easy to access and post your trail, layover, camp, and guest ranch reviews when you become a site member and login at Http://hta.horse.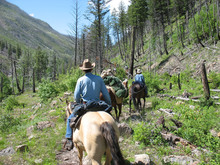 When everyone is committed to keeping trails open for horse enthusiasts, we can make sure we have trails to ride on for many years.
© 2006 by Forest Service Northern Region New window.
"We are thrilled to announce that THE Map is ready for you to add to," says HTA Director Heidi Melocco. "We already have tons of trails listed thanks to our state ambassadors. As a free or premium member of our website, you can post to the map and search for trail rides, campgrounds, layovers, guest ranches, and outfitters where you want to ride with your horse. This is a map by and for trail riders and those who travel with horses. We want your reviews of the trails and your comments to make sure that trail information stays current.
"We are committed to posting public trails and to make sure that all who ride there have great information so they can be good stewards of the places where they ride," she continues. "We want horse owners to log in to the site so that we can know who posts and keep the information curated and safe for all. When all are committed to keeping trails open for horse enthusiasts, we can make sure we have trails to ride on for many years."
Melocco posted a video tour to help horse owners learn to log in to the site and post on the map:
Watch on YouTube: https://youtu.be/2rQm8Lnd3ko
Make sure to hit like and subscribe to the HTA channel while you're there.
"Turn up the volume and watch the video to learn how to add your favorite horse trails, horse camps, layovers, outfitters, and guest ranches," Melocco says. "This is a map by and for trail riders and all who travel with horses!"
Join in now and add to the Horse Trails of America map: http://hta.horse.
HTA Membership Benefits
HTA membership works hard for its members. See all the benefits here: https://www.horsetrailsofamerica.com/membership-benefits.
HTA Free Access: Anyone can get to the map and the new state forums for free. Login with a Free Access membership to gain access to the map and travel information as well as to comment in the forums. At the free level, you'll also get our monthly newsletter.
HTA Trail & Travel: Get free membership for six months when you sign in summer/fall, 2023. You don't need a coupon code—the offer applies automatically. Read The Trail Journal Magazine monthly. Purchase US Rider roadside assistance at a discount. Save 30 percent from Cavallo Hoof Boots throughout September 2023. Get 30 percent off at StateLine Tack; The Certified Horsemanship Association offers 10 percent off their Trail Manual. Access "Tickets at Work" for discount entertainment tickets, hotel discounts, and more. Save on John Deere equipment, Big Ass Fans, Sherwin Williams Paint, and Farmer's Insurance. Plus, get to the HTA map and forums.
HTA Comprehensive Membership: With the top level of membership, you can add excess liability insurance for you or your whole family. You can also access Julie Goodnight and Van Hargis' online training libraries. This is the level where you'll get discounts to our HTA Partner campgrounds and layover locations. Receive travel discounts, the magazine, product discounts, and offerings from the other levels. If you ride and travel often, this membership level has all you need and saves you money on the road.
About HTA:
Visit http://horsetrailsofamerica.com for membership information, the interactive map, and travel discounts and information for travel to all USA states (and many Canadian sites, too). Contact the director for sponsorship, advertising, and industry-partner opportunities: heidi@hta.horse.
---
Press release by Heidi Melocco