Newsdate: Wednesday, May 17, 2023 - 11:00 am
Location: CHAGRIN, Ohio
Horses and Humans Research Foundation (HHRF) is pleased to announce our volunteer team is growing. HHRF welcomes Connie Estopinal and Dale Brown to our Finance Committee, Arnau Goma Font to our Equine Well-Being Committee, and Margaret (Marny) Mansfield to our Education Committee.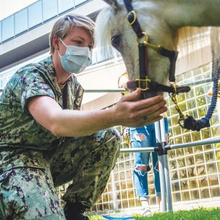 Horses and Humans Research Foundation is paving the way for a deeper understanding of horse-human interactions and their impact on health and well-being.
© 2022 by Cornerstone Therapeutic Riding Center New window.
Connie Estopinal is from Houston, TX and is the managing partner at Mohle Adams, Connie is responsible for the firm's overall business and marketplace strategy. She also manages the firm's tax practice. Employed with Mohle Adams since 1985, Connie became managing partner in 1999. Prior to joining Mohle Adams, she worked in the tax section of a national accounting firm and in the corporate tax department of a Fortune 500 company.
Dale Brown has over 40 years of experience in non-profit entities and public companies. His background includes all phases of public and private reporting, treasury, accounting, process and procedures and SOX documentation. He is a graduate of Penn State University and has CPA and CMA certificates in good standing. Dale's passion is to work with non-profit organizations as he looks to retire from public company life.
Arnau Goma Font is the owner/director of PikDame Education Center in Spain. When speaking of his past he shares "There is a quote that quite reflects my journey with horses "A jack of all trades is a master of none, but oftentimes better than a master of one.". My horsemanship is all about that if it involves horses I am in. I have been involved with show jumping, eventing, dressage, alta escuela, natural horsemanship, academic art of riding, trail riding. You name it."
When asked why he was interested in being a part of the HHRF team he stated "HHRF is paving the way for a deeper understanding of horse-human interactions and their impact on health and well-being. Joining efforts, provides the opportunity to become masters of this field, enhancing knowledge and benefiting both humans and equines alike."
Marny Mansfield, MS, MS, OTR/L, is a PATH Intl. Master Certified Instructor, CTRI, ESMHL, PATH International Registered Therapist, Mentor, Certification Faculty/ Evaluator, and Special Olympics coach. Marny has served on the PATH Intl. Riding Certification and Certification Oversight Committees and has been Vermont state chair two times.
She received the PATH Intl. Professional of the Year nationally and for Region 2 in 2014. She is currently an Associate Professor for the Bachelors of Technology in Therapeutic Horsemanship and Program Director of the community-based program at the State University of New York (SUNY) Cobleskill. She currently owns and partners with her three Norwegian Fjords and seven other hardworking partners at SUNY Cobleskill.
She has worked at programs both large and small and is a lifelong horsewomen. She completed the Masters in Public Policy at Tufts University Veterinary School (now Cummings Veterinary School) and her Masters of Science in Occupational Therapy from Colorado State University.
All of us at HHRF are thrilled to welcome these four extraordinary people to our team.
Contribute to HHRF today and help ensure that important research, and education about research on horse-human interactions continues. For more information about HHRF and our team, visit the website horsesandhumans.org or contact Dr. Pebbles Turbeville, Executive Director, exec.director@horsesandhumans.org.
Mission: "Through sustained investment in rigorous research and educational initiatives, Horses and Humans Research Foundation serves as a catalyst to advance global knowledge of horse- human interactions and their impact on health and well-being of people, horses and other equines." * such as Donkeys and Mules.
---
Press release by Dr. Pebbles Turbeville, HHRF Executive Director