Fall is upon us. While that means the best riding of the year is finally here, it also means that horse owners need to reconsider their grazing strategies, especially for those horses with metabolic issues.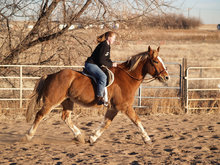 Fall means that horse owners need to reconsider their grazing strategies, especially for those horses with metabolic issues.
© 2006 by Louis
"Though the grass might not look as dangerous now as it does in the spring, grass gets stressed when the temperatures dip during cool fall nights," said internationally known integrative veterinarian Dr. Joyce Harman. This means that laminitis can a very real threat for sensitive horses."
While grass tends to be lower in fructans and starch during the summer heat, the situation changes as the nighttime temperatures cool and grass gets stressed.
"Grass produces sugar and starch due to photosynthesis during the day," said Harman. "During warmer months, grass would burn up these carbs during the night (thus making the early morning hours the safest time to graze). However, grass likes to hold onto the sugars overnight during the Fall in an attempt to fuel regrowth. This means that stressed grass is high in sugar and even more tasty to horses."
Here are a few tips to keep your horse safe:
Watch the overnight temperatures. It's not a good idea to let your horse free-graze on pasture when it was below 40 degrees the night before. Once the grass goes dormant in the winter and the temperatures stop the drastic daytime/nighttime swing, that's a different story.
Stressed grass is high in sugar! Grasses that have been over-grazed during the summer months, suffering from drought or grass that has been touched by frost is stressed, therefore it is unsafe to let your at-risk horse graze.
Take a close look at brown grass. Although warm season grasses go dormant in the Fall, be careful before you turn your insulin resistant or laminitic horse out on brown grass– many times, if it's still warm during the day, there will be green, sugar-rich blades still growing.
Grab a Muzzle. Muzzles allow horses to behave normally in the pasture in terms of exercise and socialization without running the risk of over-grazing.
The Harmany Muzzle, designed by Dr. Joyce Harman, is totally customizable, from customizing it to a horse's head shape to determining how much, or how little, grass is available to a horse. It is also made of a medical grade plastic with Kevlar fibers, making it much lighter than other available muzzles without sacrificing durability. Bonus— it's 50% more breathable than traditional muzzles AND it's easy to keep clean.
Want to learn more? Check out her recorded webinar on Fall grazing
---
Press release provided by Emily Luciano - emily@luckydeecommunications.com