Monty Roberts is pleased to announce his two USA courses in the coming months. The international growth of non-traditional and violence-free training of horses since 1996 when Monty's autobiography The Man Who Listens to Horses was published, has drawn Monty to travel for over 25 years now.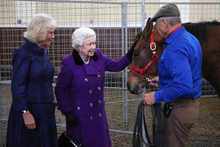 Monty Roberts' class is for the novice, as well as the advanced student, to observe a master at work practicing discoveries that changed the horse world.
© 2012 by Monty and Pat Roberts Archive
It is rare when Monty is able to demonstrate his mastery of horsemanship in the United States. His Flag Is Up Farms will host these events this spring and summer.
On July 29 - August 2 Monty will teach the MONTY'S SPECIAL TRAINING: 5 DAYS
This course will give students the opportunity to use Monty's non-violent methods with 'untouched' horses. Students will observe and have 'hands-on' lessons according to their levels of skill. They will work in the unique facility, the 'IFA Untouched Gentling Pen,' which is designed for the humane treatment of wild horses, and the safety of horse and handler.
Witness what created a re-direction in horsemanship and open your mind to a whole new perspective on your horse's methods of communication and behavior.
Experience what hundreds of students have discovered at the Monty Roberts International Learning Center; a wonderful learning environment where you will enjoy the staff, meet new friends and return home with a better understanding of your equine companion. Every horse enthusiast can find lessons below to fit their interests.
A unique opportunity to be at Flag Is Up Farms with Monty, watching, asking questions and learning as Monty and a team of his Certified Instructors work with a range of young and remedial horses. By observing this renowned and gifted horseman, you gain first-hand knowledge during demonstrations, lectures and discussions.
This class is for the novice, as well as the advanced student, to observe a master at work practicing his discoveries that have changed the horse world internationally.
Monty shares how to communicate with horses in their natural language in various situations during this intensive five-day class. This exclusive format helps you better understand problem solving using Monty's violence-free training methods. Depending on the horses brought in to train that week, these issues may be a part of the course:
Leadership issues
Ground manners
Teaching to tie
Crossing water (and/or obstacles)
Loading
Head-shyness
Mounting
Bucking
Standing for the farrier
Kicking and biting
Starting a young horse
Spend time with like-minded people absorbing what non-violent communication can be. Enjoy the included lunch daily and share lively discussions with Monty and students from around the world as each day is full with learning.
On August 5-16, Monty will teach the GENTLING WILD HORSES: 10 DAYS
Be part of the experience of horse's first touch by human hand and of the process, which allows them to be haltered, led, groomed and have their feet picked up. It is a fantastic way to learn more about the nature of the horse, as 'untouched' horses are a very good 'mirror' to learn more about oneself as well.
This course is open for everyone, but 'hands-on' sessions will be limited to the skill set of each individual. A Rosette of Accomplishment will be provided upon completing the course.
For a complete description of these demonstrations and clinics, visit website http://www.montyroberts.com/ab_about_monty_calendar/see-monty/ or phone 805-688-6288
---
Press release provided by
Media Contact: Debbie Loucks, Monty and Pat Roberts, Inc./Join-Up® International