The American Horse Council is pleased to announce that speakers for committee meetings and the upcoming National Issues Forum, have been tentatively set. The AHC's Annual Meeting and National Issues Forum takes place from June 5-7, 2022, at the Omni Shoreham Hotel.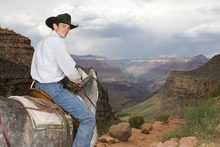 The American Horse Council Annual Equine Industry event features committee meetings and a National Issues Forum with industry thought leaders on a variety of subjects.
© 2016 by Charles T. Bennett New window.
"We are very excited with this year's line-up of noted and exemplary speakers," said AHC President Julie Broadway. "Additionally, it will be great to engage in a discussion with partners about ways to collaborate within the agriculture and livestock industry."
Special Bulletin - AHC 2022 Conference - Omni Shoreham Hotel, Washington DC -- June 5-7, 2022 - EARLY BIRD REGISTRATION DISCOUNT ENDS MAY 5TH -- Beginning Friday May 6th, all conference registration fees will go up by $50. Book now to get the best price!
To make reservations go to https://www.omnihotels.com/hotels/washington-dc-shoreham/meetings/2022-ahc-annual-meeting-and-national-issue-06012022
Invited Guest speakers include:
United Horse Coalition Meeting; Panelists Emily Weiss, Ph.D. - ASPCA's Right Horse; Daryl Tropea – Global Federation of Animal Sanctuaries GFAS; Stacie Clark – Thoroughbred Aftercare Alliance; Erin Halliwell - Thoroughbred Charities of America; Jennifer Daniels – Standardbred Transition Alliance and Lynn Coakley - EQUUS Foundation
Equine Welfare Committee; USDA Animal Care
Equine Industry CEO Forum: Wanda Little-Coffey of ASAE
Congressman Sanford D. Bishop. Jr. (GA)
Margaret Reynolds – Author, Reignite
Jennifer Brown Lerner, Deputy Director Aspen Institute – Sports & Society Program
Keith Roberts - Author, The Oak Journal "Level up your Life"
Julie Fershtman, Foster Swift Attorneys
Charlene Couch, The Livestock Conservancy
Panel Discussion on trends in Horse Sales - Superior Sale (GT Werry), Appalachian Challenge (Tinia Creamer), CSU Sales (Craig Huffhines); Professional Horse Services (Mike Jennings)
Health & Regulatory Committee; Dr. Nat White-NADPRP biosecurity project; USDA APHIS
Awards Luncheon: This year's award winners to be announced, plus 2021 Hickey Award Dr. Peter Timoney; 2021 Rolapp Award - Senator Susan Collins (R-ME); 2020 Hickey Award Dr. G. Marvin Beeman; Van Ness Award Fred Sarver, and Rolapp Award Rep. Kurt Schrader (D-OR)
Racing Advisory Committee: Lisa Lazarus of Horseracing Integrity and Safety Authority
Attendees may be asked to show proof of vaccination and/or wear masks. Details to follow as date gets closer.
Hotel Reservations - View the amazing Omni Shoreham Omni Shoreham VIDEO - To make reservations go to https://www.omnihotels.com/hotels/washington-dc-shoreham/meetings/2022-ahc-annual-meeting-and-national-issue-06012022
Conference Registration & Tentative Agenda
Go to Eventbrite
---
Press release - The American Horse Council