Newsdate: Thursday, September 15, 2022, 11:45 am
Location: WASHINGTON, DC
The United Horse Coalition (UHC) and its program, the Equine Welfare Data Collective (EWDC) are hitting the road and sharing critical information on how all equine enthusiasts can support owners in need and at-risk equines.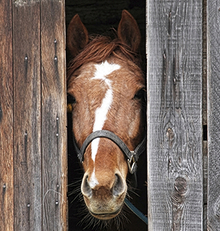 The United Horse Coalition provides information for existing and prospective owners, breeders, sellers, and horse organizations regarding the long-term responsibilities of owning and caring for horses.
© 2012 by EQUUS New window.
During the start of the COVID-19 pandemic, upon realizing there may be an increase in owners needing assistance and at-risk equines, the UHC used research from the EWDC to build and launch the UHC Equine Resource Database (UHCERD). The UHCERD is a searchable database of all equine rescues, sanctuaries, safety net services, and other programs that assist owners in need within the United States.
"The UHC and EWDC are excited to broaden our education and outreach initiatives. The UHC Equine Resource Database and data coming from the EWDC are important tools for all those that love horses to know and use." says EWDC program manager Emily Stearns.
The EWDC also recently published the Data Snapshot – a 5-page summary of all data published by the EWDC since it's inception in 2018. The UHCERD and EWDC data reports are all available to the public free of charge.
Come see the UHC and EWDC, and learn how you can support owning responsibly at these events:
September 21st-22nd, 2022 in Denver, CO at the ASPCA Right Horse Summit
November 10th-13th, 2022 in Springfield, MA at Equine Affaire
February 8th, 2023 virtual webinar (time TBD) with National Animal Care & Control Association (NACA)
April 13th-16th, 2023 in Columbus, Ohio at Equine Affaire
To view the UHC Equine Resource Database, read EWDC data reports, or learn what it means to own horses responsibly, visit: www.unitedhorsecoalition.org
About the American Horse Council and United Horse Coalition
As the national association representing all segments of the horse industry in Washington, D.C., the American Horse Council works daily to represent equine interests and opportunities. Organized in 1969, the AHC promotes and protects the industry by communicating with Congress, federal agencies, the media, and the industry on behalf of all horse related interests each and every day. The AHC is member supported by individuals and organizations representing virtually every facet of the horse world from owners, breeders, veterinarians, farriers, breed registries and horsemen's associations to horse shows, racetracks, rodeos, commercial suppliers, and state horse councils. Learn more at www.horsecouncil.org
The United Horse Coalition is a broad alliance of equine organizations that have joined together under the American Horse Council to educate the horse industry about the issues facing horses at-risk or in transition. We seek to provide information for existing and prospective owners, breeders, sellers, and horse organizations regarding the long-term responsibilities of owning and caring for horses, as well as focusing on the opportunities available for these horses. Learn more at www.unitedhorsecoalition.org
The Equine Welfare Data Collective is a collaborative effort to accumulate, analyze, and report data to enhance services for transitioning and at-risk equines. The EWDC is a grant funded initiative created by the United Horse Coalition (UHC), a program of the American Horse Council (AHC), with current funding partners being The American Society for the Prevention of Cruelty to Animals (ASPCA), the Foundation for the Horse, and US Equestrian Trust. Interested in helping to fund the continued work of the EWDC? Reach out at EWDC@horsecouncil.org
---
Press release by Emily Stearns