One of the favorite benefits among USRider Members is Winner's Circle Advantage (WCA), which offers members-only, money-saving discounts from nationally recognized equine retailers on items for horse, rider and enthusiast.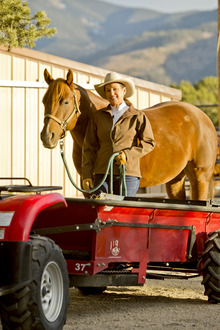 USRider Winner's Circle Advantage offers members-only, money-saving discounts from nationally recognized equine retailers on items for horse, rider and enthusiast.
© 2017 by Heidi Melocco
Remember: USRider is the nationwide roadside assistance program for equestrians, providing emergency roadside service in all 48 states as well as Canada and Alaska.
Seven of the farm and stable equipment and supply companies providing these benefits are:
Personalized farm signs are an excellent and affordable way to enhance your home or farm entrance. EZSignsOnline.com uses all maintenance-free materials. Use their easy-to-navigate secure website to 'build' your sign online by choosing from a variety of options including size, style, color, font, graphics, etc.
These signs also make great gifts for any type of farm, kennel, business or residence. As a Member of USRider® receive a 10% discount on all sign orders, plus free shipping. Visit www.ezsignsonline.com or call 800-640-8180.
Horse & Garden Supply is the distributor of Stock Tank Cleaner, an all-natural bacterium enzyme. Stock Tank Cleaner is a time-released system for restoring and maintaining cleanliness and clarity in water, which will result in a cleaner, healthier stock tank.
Horse & Garden Supply also offers hoof supplements, stall sanitizer, electrolytes and electric fencing. USRider® Members receive FREE SHIPPING on all orders of $100 or more. Visit www.rlasales.com or call 334-745-3400.
Founded in 1985, Millcreek Manufacturing, Inc. was the first manufacturer of compact manure spreaders designed specifically for horse people and continues to lead the industry in quality and value. The company offers eight models including four that may be pulled with an ATV or garden tractor.
Millcreek's SS option spreaders feature stainless steel construction with an exclusive Lifetime Warranty against floor and body rust-through. All Millcreek spreaders are made in the USA, are easy to use and offer no-maintenance sealed bearings. USRider members receive a $100 Factory Rebate. Call 800-311-1323 or visit www.millcreekspreaders.com.
Stall wall kicking and door pawing are dangerous habits that can result in serious damage to stalls and severe injuries to horses. QuitKick stops stall kicking and door pawing humanely, effectively, and without the need for any human interaction between horse and caretaker.
QuitKick uses controlled water jets – activated by the kicking, pawing or banging action of the horse on its door or walls – to stop these habits. USRider Members receive a 10% discount on all QuitKick products. Visit www.quitkick.com or call 978-501-0340.
Founded in 1989, RAMM Fencing and Stalls is dedicated to providing higher-quality, safer products and exceptional customer service. RAMM's fencing and stall experts can help you through every phase of your farm and barn project from planning to completion.
Whether your needs include fencing, stalls, watering systems, or track and ring conditioners, RAMM has you covered. You can find everything you need for your equine farm by calling 800-434-8456 or visiting www.rammfence.com. USRider® members can save 10% discount on designer stalls!
ShopSpur.com offers durable ranch equipment and supplies delivered right to your home or business. From Horse Walkers to B&W Hitches, ShopSpur.com has the items you need to get the job done. USRider Members receive 10% discount on all ShopSpur.com ranch products. Visit us at www.ShopSpur.com or call 888-337-7787.
Woodstar Products was founded in 1977 to provide custom horse stalls for the discriminating horse owner. Woodstar has expanded its product line to include an array of products, making "one stop" shopping a reality.
Woodstar has always subscribed to the QC (quality and customer) method of doing business. Their friendly staff is available to assist you with any questions regarding their products or your planned equine facility. As a Member of USRider® you receive a 10% discount on horse stall purchases exceeding $500. Visit www.woodstarproducts.com or call 800-648-3415.
USRider – in its 16th year of operation – is the only company to provide emergency roadside assistance for horse owners. Through the Equestrian Motor Plan, USRider provides nationwide roadside assistance and towing services along with other travel-related benefits to its Members.
The plan includes flat-tire repair, battery assistance, lockout services for tow vehicles and trailers with horses, plus towing up to 100 miles. As an additional service, USRider maintains a national database that includes emergency stabling, veterinary and farrier referrals.

For more information, visit www.usrider.org online or call (800) 844-1409. For additional safety and travel tips, visit the Equine Travel Safety Area on the USRider website at www.usrider.org