In an era marked by escalating weather-driven emergencies, equine professionals face a critical imperative to enhance their emergency planning and preparedness capabilities. The prevalence of catastrophic floods, record-breaking heatwaves, snowstorms, and unprecedented wildfires underscores the urgency of this matter.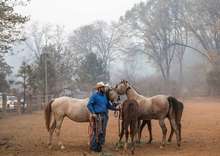 This webinar serves as a vital resource, providing horse professionals with essential tools and information to thrive in the dynamic landscape of equine emergency preparedness.
© 2018 by S.Hudnux New window.
To address this pressing need, EquestrianProfessional.com is honored to host an educational webinar designed to equip horse professionals with the knowledge and tools necessary to help navigate these evolving challenges.
Event Details:
Topic: Equine Emergency and Disaster Preparedness for Horse Professionals
Date: October 16th, 2023
Time: 11:00 am Pacific | 1:00 pm Central | 2:00 pm Eastern
Speaker: Dr. Rebecca Husted
Summary: This webinar topic covered by Dr. Rebecca Husted, an accomplished figure in Technical Large Animal Emergency Rescue (TLAER™) promises to be an invaluable investment of time. Dr. Husted, a decorated combat veteran and renowned emergency responder, brings over 25 years of expertise to the table. Participants can expect a comprehensive exploration of key topics including:
Evaluating Hazards and Risk Management:

Learn to identify potential hazards and make informed decisions that prioritize the safety of both equines and humans.

Emergency Evacuations and Planning:

Develop robust evacuation plans that are both comprehensive and actionable.

Sheltering In Place Strategies:

Explore effective strategies for sheltering in place during emergencies, drawing insights from real-world examples.

Impactful Safety Meetings:

Discover the keys to conducting safety meetings that foster a culture of security within equestrian operations.

First Aid, CPR/AED, and Insurance:

Understand the significance of maintaining up-to-date skills and comprehensive insurance coverage.

Climate Change Adaptation:

Navigate the intricate landscape of climate change effects on equine operations, including addressing challenges posed by fires, floods, extreme temperatures, and food supply disruptions.
This webinar serves as a vital resource, providing horse professionals with essential tools and information to thrive in the dynamic landscape of equine emergency preparedness.
About the Speaker:
Dr. Rebecca Husted's illustrious career spans over two decades of training, expertise in equine disaster and emergency rescue, and pivotal contributions to critical committees shaping global large animal response competencies. A decorated combat veteran and a prominent figure in the realm of TLAER™, Dr. Husted's insights have illuminated the path forward in equine safety and welfare.
This webinar is specifically for horse professionals and is provided free of charge by EquestrianProfessional.com. To secure your spot and gain access to this informative webinar, please register at the link below.
https://www.equestrianprofessional.com/public/Webinar-Equine-Emergency-Planning-and-Disaster-Preparedness-for-Horse-Professionals.cfm
About Equestrian Professional.com
Equestrian Professional.com provides horse business education, resources, and support to horse professionals around the globe. The site offers a wide array of programs, tools, and information to help horse trainers, riding instructors, breeders, stable operators, equine assisted programs, and professional riders run profitable businesses and build successful equestrian careers.
---
Press release by Elisabeth McMillan