Newsdate: Thursday January 26, 2023 - 10:00 am
Location: PARSIPPANY, New Jersey
As part of Zoetis Equine's hallmark Long Live the Horse commitment to horses and their caregivers, the company donated $25,000 to Decade One to advocate for sustainable career opportunities in equine veterinary medicine.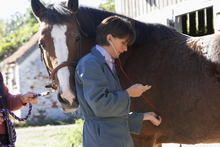 Zoetis' donation to support the work of Decade One aims to improve the number of veterinarian practitioners who stay in their dream job - caring for the horses we know and love.
© 2017 by Monkey Business Images New window.
Decade One delivers mentorship support, workshops and peer connection circles that are vital to thriving in a fast-paced yet rewarding field. Similar to burnout challenges seen in the nursing and education professions, the equine veterinary profession faces alarming retention challenges.
According to data provided by the American Association of Equine Practitioners (AAEP), approximately 1.3% of new veterinary graduates enter the equine field each year. Furthermore, within five years, 50% of all these veterinarians choose to leave their equine practice for small animal practices or quit the profession altogether.
Zoetis' donation to support the work of Decade One aims to improve the number of practitioners who stay in their dream job—caring for the horses we know and love.
Founder and key facilitator Amy Grice, VMD, MBA, served as an ambulatory equine practitioner in New York's Hudson Valley for 25 years, quickly becoming a mentor to her practice's veterinary interns with her drive to empower the next generation. "It's personally so gratifying to see what began as an effort to give our interns a "leg up" in their careers expand to a nationwide network," shares Dr. Grice.
"With Zoetis' support, we are helping equine veterinarians early in their careers form strong networking connections with peers, as well as gain essential business skills to shape a successful career in the equine veterinary space."
Zoetis' fundraising efforts coincided with the 68th Annual AAEP Convention & Trade Show in San Antonio, Texas, this past November. Based on attendees' Dormosedan (detomidine hydrochloride) product purchases throughout the event, Zoetis made the donation to Decade One.
"It's an honor to partner with Dr. Grice and her team, who wholeheartedly embody what it means to stand by the side of veterinarians in support of a rewarding career, particularly understanding the many sustainability challenges that equine practices face today," shares Jen Grant, head of marketing, Zoetis Equine.
"It's crucial that we as an industry recognize and support the dedication and talent of those who strive daily to care for the health, safety and well-being of horses who do so much for us in return."
In addition to supporting the Decade One veterinary group, Zoetis stands alongside numerous organizations that support equine veterinary sustainability, including Not One More Vet and AAEP, along with regional veterinary clinics and organizations. This lineup of nonprofits and business missions embody the Zoetis Equine brand vision and Long Live the Horse message.
"As a busy practitioner, I am grateful for how Zoetis goes above and beyond to support me, my patients and our industry," reflects Jessica Martin, DVM, of Mountain Pointe Equine in Long Valley, New Jersey, and Decade One member.
"I appreciate that Zoetis makes the extra effort to go beyond the bottle, especially when it comes to the level of service I receive from my equine specialist, best-in-class customer support and dedicated equine technical service veterinarians. I continue to rely on Zoetis for trusted products like Dormosedan because I want the best for my clients and my practice."
To learn more about how Zoetis is making lives better for horses and the veterinarians and technicians who care for them, visit zoetisequine.com and Zoetis Equine on Facebook and Instagram.
About Zoetis
As the world's leading animal health company, Zoetis is driven by a singular purpose: to nurture our world and humankind by advancing care for animals. After 70 years of innovating ways to predict, prevent, detect and treat animal illness, Zoetis continues to stand by those raising and caring for animals worldwide, from livestock farmers to veterinarians and pet owners. The company's leading portfolio and pipeline of medicines, vaccines, diagnostics and technologies make a difference in over 100 countries. A Fortune 500 company, Zoetis generated revenue of $7.8 billion in 2021 with approximately 12,100 employees.
The Zoetis Equine division is committed to providing horse care you can count on. Our team includes numerous equine veterinarians and other experts who are inspired daily by the opportunity and profound responsibility to support horses, the owners who love them and the equine veterinarians and other care team members who safeguard their well-being every day. Whether at the clinic or in the field, Zoetis is always by your side with a comprehensive, innovative portfolio of equine products and services at every step of a horse's care and throughout the journey of a horse's life. Visit zoetisequine.com to learn more.
About Decade One
Decade One regional groups provide a peer network, career development tools, and a broad business education. Regional groups, each with 20-30 members, are formed from veterinarians seeking a community of peers, interested in helping each other succeed, and wishing to learn more about the business aspects of practice. Members are equine veterinarians in their first decade of practice or practice ownership.
Each Decade One group has monthly virtual "check-in" meetings to catch up with each other and discuss current challenges and successes. There are two in-person meetings per year with member updates as well as six hours of RACE approved business content in a workshop format. In addition, there is an ongoing online member forum for questions and concerns between meetings. Each Decade One group meets for 3 years (6 in-person meetings), after which some groups continue informally.
Decade One groups were designed to be affordable for members, build collegial bonds, and help equine practitioners thrive. The success of the program has been shown. Since the program's inception in 2015, 93% of members are still practicing in the equine sector of veterinary medicine.
For more information, please visit www.decadeonevet.com
---
Press release by Jessica Normand