Newsdate: Thursday, March 2, 2023 - 11:00 am
Location: PARSIPPANY, New Jersey
Innovative, first-of-its-kind technology, Vetscan Imagyst now offers an artificial intelligence (AI) dermatology application and soon will expand equine analysis capabilities in a single platform
AI dermatology application is now available and AI equine fecal egg count (FEC) analysis will launch in Spring 2023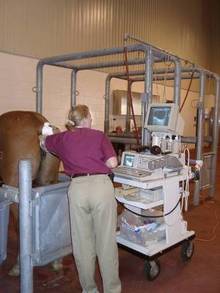 With the upcoming addition of AI equine FEC analysis this Spring, Vetscan Imagyst will soon deliver fast, reliable and shareable results to equine clinicians allowing rapid detection of Parascaris and strongyles.
© 2011 by Kathy Anderson - eXtensionHorses New window.
Zoetis, the world leader in animal health, today announced the expansion of its multi-purpose, diagnostics platform, Vetscan Imagyst™, to include two new applications, one for AI dermatology, available now; and another for AI equine FEC analysis, which will be available in Spring 2023.
These diagnostic additions broaden Vetscan Imagyst testing capabilities beyond existing AI canine and feline fecal analysis, AI blood smear analysis and digital cytology applications to include new in-clinic tests that are fully integrated into the company's cloud based artificial intelligence capabilities.
With the launch of these applications, Zoetis is continuing to redefine what is possible for in-clinic veterinary diagnosis and animal care across species.
About Vetscan Imagyst, An All-in-One Technology
Launched in 2020, Vetscan Imagyst is a first-of-its-kind technology, offering multiple applications in a single diagnostics platform leveraging a combination of image recognition technology, algorithms and cloud-based AI.
Using a compact scanner along with AI technology and backed by a global network of expert clinical pathologists, Vetscan Imagyst efficiently delivers a variety of consistent diagnostic tests and results. New applications, like AI dermatology and AI equine FEC analysis, will be easily integrated with existing Vetscan Imagyst testing capabilities, maximizing clinic investment.
"At Zoetis, we are committed to equipping veterinary healthcare teams with cutting-edge diagnostic tools that provide convenient and efficient solutions to facilitate the best possible care for animals in their practice," said Lisa Lee, Senior Vice President, Head of Product and Customer Experience, Global Diagnostics at Zoetis. "Adding AI dermatology and AI equine FEC analysis expands the capacity of care that clinicians can provide."
Vetscan Imagyst AI Dermatology
Dermatology visits, specifically for itch, are top reasons for veterinary visits.[i]However, a recent survey of veterinarians indicated that up to 65% of patients do not receive dermatologic diagnostic testing.[ii],[iii] The introduction of Vetscan Imagyst AI dermatology brings Zoetis one step closer to successfully helping veterinary healthcare teams diagnose and address dermatologic concerns at the time of a pet's visit. This addition deepens the company's dermatology portfolio, which has supported veterinarians in the management of nearly 13 million pruritic dogs as a result of control of allergic itch with Apoquel® (oclacitinib tablet) and the treatment of allergic dermatitis in nearly 7 million with Cytopoint®.[iv]
The Vetscan Imagyst AI dermatology application analyzes impression smears and ear and skin swabs to identify yeast, inflammatory cells and bacteria, providing consistent, accurate results within minutes,[v] while freeing up staff.
Vetscan Imagyst Equine Diagnostics
Available now, Equine Digital Cytology Image Transfer includes digital review of sample images by board-certified clinical pathologists within the Zoetis network. Cytopathology results are received in less than two hours, 24 hours a day, seven days a week,[vi] compared to the traditional 24- to 48-hour wait with off-site lab results, saving veterinary healthcare teams time and shipping expenses. This allows for faster, more informed results to guide treatment decisions.
"Clinicians know that an accurate diagnosis can make all the difference – ensuring optimal treatment, better outcomes and happier owners and patients – but the reality is that time and capacity in busy clinics get in the way," said Richard Goldstein, DVM, DACVIM, DECVIM-CA, Vice President, Global Diagnostics Medical Affairs at Zoetis. "Vetscan Imagyst allows veterinary healthcare teams in busy environments to meet the diagnostic and therapeutic needs of their patients quickly and consistently."
With the upcoming addition of AI equine FEC analysis this Spring, Vetscan Imagyst will soon deliver fast, reliable and shareable results to equine clinicians within 10 minutes,[vii] allowing for rapid detection of Parascaris and strongyles. It is powered by AI, and, in a study, demonstrated up to 99% agreement with board-certified parasitologist results.7
This allows for rapid identification of high shedders versus low shedders to enable strategic targeted deworming protocols to be implemented with our extensive equine parasitology portfolio, consisting of Quest® (moxidectin), Quest Plus® (moxidectin/praziquantel), Anthelcide® EQ Paste (oxibendazole), Strongid®Paste (pyrantel pamoate) and Strongid C 2X® (pyrantel tartrate).
Visit www.VETSCANIMAGYST.com to learn more about Vetscan Imagyst.
About Zoetis
As the world's leading animal health company, Zoetis is driven by a singular purpose: to nurture our world and humankind by advancing care for animals. After innovating ways to predict, prevent, detect, and treat animal illness for more than 70 years, Zoetis continues to stand by those raising and caring for animals worldwide – from veterinarians and pet owners to livestock farmers and ranchers. The company's leading portfolio and pipeline of medicines, vaccines, diagnostics and technologies make a difference in over 100 countries. A Fortune 500 company, Zoetis generated revenue of $8.1 billion in 2022 with approximately 13,800 employees. For more information, visit www.zoetis.com.
DISCLOSURE NOTICES
Forward-Looking Statements: This press release contains forward-looking statements, which reflect the current views of Zoetis with respect to: business plans or prospects, future operating or financial performance, future guidance, future operating models; disruptions in our global supply chain; R&D costs; timing and likelihood of success; expectations regarding products, product approvals or products under development, expected timing of product launches; the impact of the coronavirus (COVID-19) global pandemic and any recovery therefrom on our business, supply chain, customers and employees; expectations regarding the performance of acquired companies and our ability to integrate new businesses; expectations regarding the financial impact of acquisitions; future use of cash, dividend payments and share repurchases; tax rate and tax regimes and any changes thereto; and other future events. These statements are not guarantees of future performance or actions. Forward-looking statements are subject to risks and uncertainties. If one or more of these risks or uncertainties materialize, or if management's underlying assumptions prove to be incorrect, actual results may differ materially from those contemplated by a forward-looking statement. Forward-looking statements speak only as of the date on which they are made. Zoetis expressly disclaims any obligation to update or revise any forward-looking statement, whether as a result of new information, future events or otherwise. A further list and description of risks, uncertainties and other matters can be found in our Annual Report on Form 10-K for the fiscal year ended December 31, 2021, including in the sections thereof captioned "Forward-Looking Statements and Factors That May Affect Future Results" and "Item 1A. Risk Factors," in our Quarterly Reports on Form 10-Q and in our Current Reports on Form 8-K. Such risks and uncertainties may be amplified by the COVID-19 global pandemic and its potential impact on the global economy and our business. These filings and subsequent filings are available online at www.sec.gov, www.zoetis.com, or on request from Zoetis.
IMPORTANT SAFETY INFORMATION ABOUT APOQUEL®
Do not use Apoquel in dogs less than 12 months of age or those with serious infections. Apoquel may increase the chances of developing serious infections, and may cause existing parasitic skin infestations or pre-existing cancers to get worse. Prescribing Information: www.ApoquelPI.com.
About Cytopoint®
Cytopoint has been shown to be effective for the treatment of dogs against allergic dermatitis and atopic dermatitis.
All trademarks are the property of Zoetis Services LLC or a related company or a licensor unless otherwise noted. © 2023 Zoetis Services LLC. All rights reserved. VTS-00994
[i] Nationwide®. Skin allergies, ear infections among most common conditions that prompt veterinary visits. Available at: https://news.nationwide.com/common-pet-conditions-that-prompt-veterinary-visits. Accessed December 2022.
[ii] Zoetis U.S. Market Research. Study: Impact of Vetscan Imagyst AI Diagnostic Tool on Current Cytology Testing Landscape. July 2022.
[iii] Data on File. Vetstreet/Covetrus Pruritus Projection Trend. March 2019. Zoetis Inc.
[iv] Kynetec PetTrak – GAH-284: Unique Canine Patients Since Launch Custom Report: Apoquel and Cytopoint – September, 2022.
[v] Zoetis Data on File. Study Report No. D870R-US-22-053.
[vi] Zoetis. IMAGYST Digital Cytology Turnaround Times Based On Internal Zoetis Data Pull As Of 11/28/2022. November 2022.
[vii] Zoetis Data on File. Study Report No. DHX6Z-US-22-131 (D6131).
---
Press release by Lauren Dorsch