Ariat International, the leader in innovative Western and English footwear, apparel and accessories, has recently partnered with country music artist Josh Turner. Ariat will team with Turner on various initiatives for the remainder of 2012 and 2013.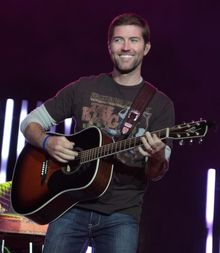 Ariat International, the leader in innovative Western and English footwear, apparel and accessories, has recently partnered with country music artist Josh Turner.
© 2012 by WikiJustSomeUser
Ariat will be sponsoring numerous dates on Turner's 2013 Punching Bag Tour. In addition to the concert series, Turner will be featured in Ariat's new "Passion" advertising campaign. The ad featuring Turner will appear in several publications including-- Southwest Airlines' magazine Spirit as well as Cowboys & Indians, American Cowboy and Western Horseman.
"I remember coming across this particular pair of Ariat boots at a western store in Billings, MT and I was blown away at how comfortable they were," said Josh Turner. "They were the most comfortable boots I had ever put on, and I knew the rubber sole would be great on stage to keep me from slipping and sliding. From that point on, I fell in love with the brand."
"Josh is a true fan of our brand. We have been working with him for several years, and this formal partnership is a natural progression of the relationship," said Susan Alcala, Ariat's vice president of partnership marketing. "It is an honor to have Josh join the extended Ariat team."
Learn more about Josh Turner, his new album and his upcoming concert tour!
About Ariat International, Inc.
Ariat International, Inc. is the leading manufacturer of innovative performance equestrian footwear, apparel and belts. Featuring a patented technology designed to deliver stability, durability and comfort, Ariat pioneered the application of advanced athletic shoe technology into English riding boots and authentic Western boots. Ariat products are sold in a network of retail outlets throughout the world. For more information about Ariat products or for the Ariat retailer nearest you, contact Ariat at 800.899.8141 or visit www.ariat.com.
About Josh Turner
One of country music's most recognizable hit-makers earning numerous CMA, ACM and GRAMMY nominations since the release of his debut album, Long Black Train, Josh Turner has sold more than five million albums and garnered four No. 1 hits (including three multi-week chart-toppers): "Your Man," "Would You Go With Me," and "Why Don't We Just Dance" (a four-week No. 1 that was named the most-played song of the year in 2010 by MediaBase).
His song, "All Over Me," from Haywire also reached the top spot on the charts, making him one of only seven country artists to have two No. 1 hits in 2010. A Hannah, S.C. native, Turner has been songwriting and performing since he was a young child, and in support of music education, created The Josh Turner Scholarship Fund to assist students interested in pursuing a future in arts/music.
As a high school student, he had very little access to music education, therefore realizes first-hand the importance of arts in the schools. Celebrating one of his fastest-rising singles to-date, "Time Is Love," Turner released his fifth studio album, Punching Bag on Tuesday, June 12 which debuted at No. 1 on the Billboard Country Albums Chart.
The Associated Press says, "With Punching Bag, Turner once again proves he ranks among the most effective -- and most hard-core country -- performers of his generation."
On August 27, he released a live album exclusively with Cracker Barrel Old Country Store®, Live Across America, which he is currently promoting out on his Cracker Barrel-sponsored 2012 headlining tour. The album was recorded at live shows from Lancaster, Pa. to Kansas City, Mo. and more.