Equine nutritionist Dr. Amy Gill has joined EquiMed's team of pro-bloggers and is the author of Dr. Amy Gills Equine Nutrition Blog. Dr. Gill's blog provides advice for the horse owner concerning equine health through nutrition.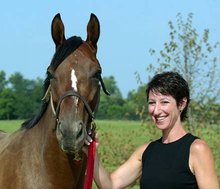 Dr. Gill is EquiMed's newest pro-blogger writing about equine nutrition and other equine health topics.
Photo courtesy of Dr. Gill
Dr. Gill received a Bachelor of Science degree in Animal Science from the University of Maryland in 1983. Dr. Gill conducted her graduate studies at the University of Kentucky, receiving a Master of Science degree in Equine Nutrition in 1989 and a Doctorate in Equine Nutrition and Exercise Physiology in 2000. Prior to completing the requirements for her doctoral degree, Dr. Gill spent many years breaking and galloping racehorses and working on the racetrack as an equine physical therapist.
"Dr. Gill combines a huge level of both academic and practical experience with equine nutrition and horses in general. We are excited to have her monthly blog hosted on EquiMed for our website visitors." commented Mark Sellers, President and CEO of EquiMed, LLC.
About EquiMed
EquiMed, LLC is a California corporation that operates the http://equimed.com website. The website offers equine healthcare information, including health topic specific articles, reference articles on diseases and conditions, drugs and medications, health services, blogs, events and news.
EquiMed and Horse Health Matters are registered trademarks of EquiMed, LLC.