"There's too much paper on my desk and too many unanswered emails in my inbox. I check the calendar and it's time to select five volunteers to receive new boots from Ariat International, the sponsor of the EQUUS Foundation Champions program. The day gets even better when I get to share their stories," said Lynn Coakley, EQUUS Foundation President.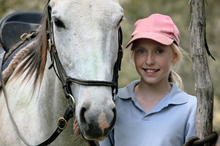 It's easy to become a CHAMPION - an incentive-based equine service volunteer - an individual must log a minimum of 24 volunteer hours from January 1st to December 31st.
Colleen Ashlyn Lewis; Hoofbeats Therapeutic Riding Center Lexington, VA
When fifteen-year old Colleen first visited Hoofbeats last November, she was looking for a place to work with and ride horses. "It never crossed my mind that it would be the greatest thing that ever happened to me. I met amazing people and amazing horses, and I have so many memories that I wouldn't trade for the world."
Being involved with therapeutic riding continues to inspire Colleen. In August she moved from Virginia to New York. It wasn't long before she started volunteering for another therapeutic riding center.
"I hope to continue riding and working horses for the rest of my life because as my new director says, 'Every moment spent with horses is therapeutic.' I believe every word of that and I truly live by it every day."
Julie Stern: Helping Hearts Equine Rescue (HHER) Perrineville, NJ
"I have been volunteering at HHER for almost three years and love every minute I get to be there! Even my husband gets jealous of me wanting to spend so much time there!" said Julie Stern.
As a volunteer, Julie helps out wherever she is needed - cleaning stalls, grooming horses and helping the new comers become more relaxed and secure in their new surroundings.
She has formed an attachment with many of the HHER horses like Bentley. Bentley came to HHER in November 2011. He was in horrendous condition - so emaciated and weak that he fell down on the ramp as he was loaded onto the trailer. Three days later he was still emaciated, but happily trotted over for his lunch. There's been a lot of Bentleys at HHER with lots of ups and downs.
"It's never ending but I would not have it any other way!!!!"
Alexa Rae Rudolph: Lucky Orphans Horse Rescue, Inc. Dover, NY
Since Lucky Orphans opened its barn doors in 2008, they have saved many wonderful horses, rehabilitating them to sound health and rebuilding their trust in people, but Lucky Orphans also uses their stories of struggle, overcoming adversity, building trust, leadership, and teamwork to foster an understanding and inspiration in children, young adults, and the community.
Alexa is a 15 year-old with a soft spot for any animal, but her true love is for horses. She spent time at many stables in her area, only recently discovering Lucky Orphans Horse Rescue.
Although Alexa has a busy schedule with school, soccer and track, she finds the time to help out anyway she can cleaning paddocks, feeding and grooming the horses. On learning she was chosen to receive new Ariat boots, mother Christin said, "I can't tell you how excited my daughter is...Thank you."
Terry Pratt: Acts 19:11 dba Pikes Peak Therapeutic Riding Center Elbert, CO
Pursuing her love of horses and helping others, Terry Pratt became involved with Pike Peak Therapeutic Riding Center (PPTRC) after retiring to Colorado Springs in 2013.
"PPTRC is a powerful and effective program. It has become a part of my extended family and I often refer to it as 'my happy place'," said Terry Pratt.
Over the years Terry has been involved in a variety of volunteer activities, but she says, nothing has been more rewarding than the bond with the horses, the smiles of the clients, and the friendships that have evolved at PPTRC.
Taylor Griffith: New Beginnings Therapeutic Riding Bowling Green, KY
Sixteen-year old Taylor is no stranger to horses. She started taking riding lessons when she was seven years old.
She started volunteering at New Beginnings in 2014 to expand her knowledge of horses and to work with children with special needs.
"It was very rewarding to watch their faces light up when they see the horses. Some of the children I worked with were bullied for the way they looked. It inspired me to see them rise up and turn all that negative into something amazing."
When Taylor had to stop volunteering to get a paying job, she shared, "It was very hard to leave all that behind". However, there can be doubt in anyone's mind that horses will remain a significant part of Taylor's life.
CHAMPIONS is the EQUUS Foundation's incentive-based equine service volunteer program sponsored by Ariat International to recognize and reward individuals and organizations on the Equine Welfare Network.
It's easy to become a CHAMPION, an individual must log a minimum of 24 volunteer hours from January 1st to December 31st. The volunteer hours will be verified by the organization and the EQUUS Foundation.