Perhaps not since 1991 when the chants of the German race fans were "Lomitas, Lomitas, Lomitas!" - Horse of the Year and champion 3-year-old - has a German bred horse so captured the fascination of famed horse trainer, Monty Roberts. Pakistan Star's story may be the next opportunity for Roberts to tell us how a talented five year old Thoroughbred, banned from racing, completely misunderstood, is able to go from refusing to race to refusing to lose.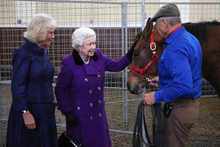 Pakistan Star is the highest earning German bred Thoroughbred in history and the highest earning horse that Monty Roberts has ever worked with.
© 2012 by Monty and Pat Roberts
Last year Roberts received a visit from Daniel Zigal who invited Roberts to be a guest speaker at the Carbine Club (racing club) in Hong Kong. Zigal is a prominent horse owner in the China and Hong Kong racing circles. Daniel reminded Monty that about 15 years ago, Monty spoke at the Carbine Club and had asked him to come back. It was decided that on December 10, 2017 Roberts would be in Hong Kong.
Roberts began his journey there in the last week of September 2017 to work with Her Majesty Queen Elizabeth's race horses that needed starting. Monty would go on to demonstrate in the UK and in Ireland. Then on the 10th of November he traveled on to Germany to work with horses at the famous stud farm, Gestüt Fährhof for the Jacobs family and also demonstrate at four weekend ticketed events in Germany.
Before Monty left for Asia, a message came through from Hong Kong, unrelated to the speaking engagement. Pakistan Star's owner, Kerm Din, was calling for Monty's counsel. Winfried Engelbrecht-Bresges, president and CEO of Hong Kong Racing had observed Monty working with Lomitas in 1991 and strongly encouraged Mr. Din to seek Monty's assistance with Pakistan Star. In 1991 Walther Jacobs of Gestüt Fährhof had sought the help of the American horse trainer Monty Roberts and Jacob's Lomitas went on to win Group I races on his way to being named 1991 Horse of the Year and the champion 3-year-old male.
In December 2017, once in Hong Kong Monty spent the morning at the stable, met the trainer who was an ex-champion jockey and heard from a race official that Pakistan Star worked fast in the breeze up and received a whipping when he stopped. The horse had begun to stop mid race in his fourth race and was suspended from racing after that. The trainer was disciplined. If Pakistan Star was to race again he would need to go through tests to be reinstated. This is never easy.
"I watched the videos and saw a jockey using a whip on Pakistan Star that I would consider inappropriate. I am thinking, I have no idea what I am going to do with this horse! I have to do something. I am there for a couple of days and didn't even have physical contact with him. I hadn't seen this particular issue. Stopping mid-race and standing on the track taking a beating? Never." Roberts remembered worrying he wouldn't have the time to work out Pakistan Star's issues.
Roberts asked the team to describe Pakistan Star's normal morning routine. The first thing he noted was that they trained him going away from the direction of the stables, stopped him and then came right back to the stable area. Roberts determined these negative tendencies, whereby he stopped running, were manufactured and not remedial. The result was that Pakistan Star literally refused to run past the middle of the races.
Roberts met with Kim Kelly, Chief Racing Steward of the Hong Kong track, and asked about allowing Pakistan Star to finish his morning work by going all the way around the track before heading back to the stable, rather than his routine of not completing the full trip around the track. Monty wanted the re-set Pakistan Star's mind to complete the oval and finish his work heading toward his home, hoping his natural instinct to go home would motivate him.
Trainer Tony Cruz brought Pakistan Star back to the Sha Tin Race Track in February but he was not yet in form. He needed January and February to get back in to shape for the tests he needed to pass to allow him to race again without the antics he was becoming legend for which was stopping mid race.
It was determined that he would be given another chance. William Buick rode Pakistan Star to a three-length win in the Audemars Piguet QEII Cup (2000m) on April 29. Then Pakistan Star doubled his Group 1 record with complete ease on May 27 with Tommy Berry riding him to a comfortable victory in the Standard Chartered Champions & Charter Cup (2400m) at the Sha Tin Racecourse. For Pakistan Star, it was his second Group 1 win in as many starts.
To date, Pakistan Star is the highest earning German bred Thoroughbred in history, globally and also the highest earning horse that Monty Roberts has ever worked with. Pakistan Star has won $4.5 million US dollars.
Monty Roberts added, "Notably, this 5 year old gelding has had more stall tests than races. I am delighted he has won more money than any horse I have ever worked with. Silvano was second most winnings $2.2 million USD back in early 2000s."