Location: NEW YORK CITY, New York
On August 30, 2014, Monty Roberts was interviewed by Tucker Carlson on Fox and Friends Saturday Show about his internationally acclaimed work with horses and his workshops for veterans and their families as he works with them to overcome emotional trauma by engaging with horses.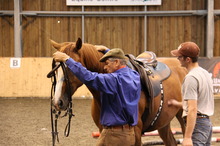 Monty Roberts' self-awareness exercise deals effectively with emotional trauma, anti-social behavior and withdrawal, anger, stress, combat stress and even Post Traumatic Stress Injury.
© 2014 by Monty and Pat Roberts
The legendary "Horse Whisperer," Monty Roberts, is running free, resilience-building workshops for veterans and their families. The three-day program involves working closely with horses.
The individuals and horses develop a special bond built upon mutual trust and respect. Join-Up offers everyone an effective tool to rediscover themselves through the eyes of the horse. This self-awareness exercise deals effectively with emotional trauma, anti-social behavior and withdrawal, anger, stress, combat stress and even Post Traumatic Stress Injury (PTSI).
See clips from the TV shows:
http://video.foxnews.com/v/3757628930001/real-life-horse-whisperer-helping-veterans-heal/#sp=show-clips
http://video.foxnews.com/v/3757688101001/real-life-horse-whisperer-gentled-more-than-50000-horses/
Roberts holds two Ph.D.s in Behavioral Sciences. In these workshops, he demonstrates the deeply healing power of establishing a trusting relationship with horses without the use of force. With his soft-spoken, nurturing style, Roberts assists veterans as they learn to cause a partnership with the horse.
After three transformational days, veterans can better understand how to control their anger, confront painful memories, cope with real-life situations and move on with their lives and relationships.
Roberts prefers the term 'injury' or PTSI over Post Traumatic Stress Disorder, PTSD, saying, "I don't believe our psychology fraternity is doing anything to give our returnees a better life with the term disorder," Roberts has developed this novel approach to working with veterans using horses.
October 27-Nov 7 is the next Introductory Course in Monty's concepts
Roberts is planning the training for the Horse Sense and Healing in December for those who have passed the Monty Roberts Introductory Course exams and are certified by PATH or EAGALA. For more information about Monty's Horse Sense and Healing program and certification write to admin@join-up.org Monty's Certification Courses can be found at www.Join-Up.org or call 805-688-3483

Monty Roberts, an award-winning American horse trainer best known for his humane approach to training horses and decades of work with individuals with post-traumatic stress, announced on Friday, the 4th of July, announced a name change to Horse Sense and Healing to support veterans, first responders and their families.
The New York Times bestselling author and world-renowned horse trainer Monty Roberts is available for interviews.
About Monty Roberts
Monty Roberts first gained widespread fame with the release of his New York Times Best Selling book, The Man Who Listens To Horses; a chronicle of his life and development of his non-violent horse training methods called Join-Up®. Monty grew up on a working horse farm as a firsthand witness to traditional, often violent methods of horse training and breaking the spirit with an abusive hand. Rejecting that, he went on to win nine world's championships in the show ring. Today, Monty's goal is to share his message that "Violence is never the answer."
Roberts has been encouraged by Her Majesty Queen Elizabeth II with the award of the Membership in The Royal Victorian Order, as well as becoming Patron of Join-Up International. Other honors received were the ASPCA "Founders" award and the MSPCA George T. Angell Humanitarian Award. Monty is credited with launching the first of its kind Equus Online University; an interactive online lesson site that is the definitive learning tool for violence-free training.
Join-Up philosophies can be seen at work with both humans and horses across the world, from farms to major corporations. To learn more about Monty Roberts or the many applications of his Join-Up training methods, visit www.montyroberts.com . Horse Sense and Soldiers aired on Discovery Military highlighting the therapeutic effect that horses and Monty Roberts' Join-Up® have on PTSD. Roberts has teamed with The Corporate Learning Institute to help transfer the key learning's from his work to the workplace.