A resident of Solvang for 46 years, and New York Times best-selling author, Monty Roberts is serious about transferring his concepts to the rest of the world in order to fulfill his mission "to leave the world a better place for horses and for people too".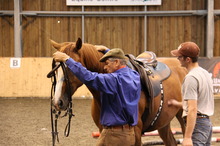 Monty and Pat Roberts are hosting 32 Brazilians for a special training in order to show that traditional, and painful, breaking of horses is not needed.
© 2013 by Monty and Pat Roberts Inc. Archives
Monty and Pat Roberts are hosting 32 Brazilians for a special training in order to show that traditional, and painful, breaking of horses is not needed. Organized by the largest equestrian magazine in Brazil, Mundo Equestre, the Brazilians are represented from every state there. Monty's student, Eduardo Moreira has inspired many people in Brazil to come to Flag Is Up Farms and Bruno Sagrise is translating.
Monty Roberts has been training horses since he was a child and has been a leader in the equine training industry for all of his 77 years. Now focusing on the emerging field of interspecies communication, Monty's work has been validated by world leaders and published in research reports, impacting a cross section of disciplines from training horses to teaching people.
Widely known as a trusted advisor to Her Majesty the Queen, Monty Roberts was again asked to be a part of the celebrations of the 60th Anniversary of Queen Elizabeth's monarchy. Roberts and his wife Pat attended by personal invitation, having given service to Royal Family for the past 22 years. Roberts also attended the celebration in 2002 when asked by Her Majesty to participate in the 50th Jubilee celebration of the Queen's monarchy.
Roberts was honored with a Member of Victorian Order (MVO) award, making him a member of the Victorian Order for his personal service to the Queen. The Queen awarded Roberts the medal on Saturday, June 11, 2011 in a private meeting, remarking that it was not only his work with Her Majesty's Thoroughbreds but also his work with schools, prisons, youth detention centers and domestic abuse centers that contributed to the award.
Monty Roberts first gained widespread fame with the release of his New York Times Best Selling book, The Man Who Listens To Horses; a chronicle of his life and development of his non-violent horse training methods called Join-Up®. Monty grew up on a working horse farm as a firsthand witness to traditional, often violent methods of horse training and breaking the spirit with an abusive hand. Rejecting that, he went on to win nine world's championships in the show ring.
Today, Monty's goal is to share his message that "Violence is never the answer." Roberts has been encouraged by Her Majesty Queen Elizabeth II as well as the ASPCA "Founders" award and the MSPCA George T. Angell Humanitarian Award. He is credited with launching the first of its kind Equus Online University; an interactive online lesson site that is already being considered the most effective educational tool for horsemen on the web.
Join-Up philosophies can be seen at work with both humans and horses across the world, from farms to major corporations. To learn more about Monty Roberts or the many applications of his Join-Up training methods. Horse Sense and Soldiers aired on Discovery Military highlighting the therapeutic effect that horses and Monty Roberts' Join-Up® have on PTSD. Roberts has teamed with The Corporate Learning Institute to help transfer the key learning's from his work to the workplace.