Back in March 2016, a nearly blind mare named Lily, who lived in New Holland, Pennsylvania, appeared to have been shot more than 100 times with paint balls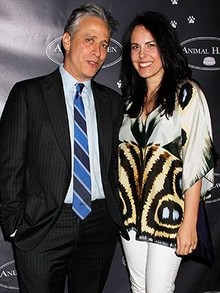 The Stewarts, who recently bought a New Jersey farm which will be a new home for hundreds of animals rescued from cruelty, then decided to adopt Lily and bring her to their Howling Animal Sanctuary for abused animals in New Jersey.
© 2016 by Farm Sanctuary
Now, comedian Jon Stewart and his wife, Tracey, have adopted the 20-year-old mare and she has been taken to the couple's animal sanctuary in New Jersey.
The couple have also adopted another horse named Anita, who was the victim of neglect.
According to a statement from the Humane Society of the United States, Lily was found abandoned in a stall. In addition to the marks paintball marks found on her body, the mare was also emaciated and blind in her right eye.
After the discovery of the neglected horse, Lily was originally taken to Penn Vet New Bolton clinic for medical care. She had her right eye removed and unhealthy tissue was removed from her left eye. Since then, the mare, who's put on a few hundred pounds, has bounced back.
"You wouldn't recognize her, she's a different horse," Smith told Lancaster Online.
Tracey Stewart saw the neglected mare at Penn Vet New Bolton over a month ago. Though Tracey had offered to take the mare in then, it wasn't long before the Stewarts decided to adopt Anita as well.
An article post on March 15, 2016, by Chris Hoffman reported that Lily was recovering after being shot more than 100 times with paintballs, and the 20-year-old horse was recovering at the New Bolton Center in Kennett Square, Chester County
While it isn't clear exactly how Lily ended up with the numerous paintball marks, Philip Price Jr., 65, has since been convicted of animal cruelty, along with other charges.
According to reports, New Bolton Center veterinarian Dr. Rose Nolen-Walston said, "In 15 years, I've never seen another paintball case," . "You can tell she's a sweetie and you can tell she's happy to be getting some food and some care."
Originally, Kelly Smith of Omega Horse Rescues found Lily at the New Holland Horse Sale Stables in Lancaster County on Monday after the horse auctions. They found no sign of an owner and believed her to be abandoned at the stables. They called the SPCA and Smith took Lily to New Bolton.
According to Smith, "Her eye was swollen shut. The other one she can't see out of her head was hanging down. She was very depressed."
Jon Stewart's wife, Tracey McShane, a former veterinary technician and animal advocate, came to visit Lily in April according to the Lancaster County SPCA.
The couple who recently bought a New Jersey farm which will be a new home for hundreds of animals rescued from cruelty, then decided to adopt Lily and bring her to their Howling Animal Sanctuary for abused animals in New Jersey.
The entire Stewart clan are animal enthusiasts and rescuing animals is a family affair! Jon started helping Animal Haven after he visited one of their shelters where his children volunteered. He was so moved and inspired by the efforts of the organization that on his very first visit he adopted an adorable puppy, his three-legged pit bull named – Champ.