You asked and Cavallo responded. The Cavallo CLB (Cute Little Boot) miniature horse (and VSE—Very Small Equine) hoof boot sizing range now includes two new sizes. The brand-new sizes M1 and M4 are now available throughout North America!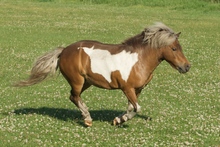 Safety, protection and comfort are synonymous with the household hoof boot brand for horses - Cavallo - bettering the lives of miniature horses.
© 2009 by Pete Markham
The new size M1 is made to fit the smallest of miniature horses, and the M4 is sized to fit a large miniature horse, a pony or very small regular horse hoof. The M4 is also offered to "bridge the gap" between Cavallo's miniature and regular size ranges. The M1 – M4 size range now gives a complete selection of sizing, covering the smaller hoofs.
Over the past five years, the CLB has climbed from being a boot offered in a single size (M2) to be the World's most recognized and popular miniature hoof boot. Keeping up with demand after the initial CLB launch was challenging.
Cavallo had underestimated the need for mini boots to cater to our smaller equine friends. Cavallo progressed to offer the M3 size in 2016, and escalating demand has continued since. Now there are four sizes on a Slim Sole, all offered in Black or Bling. CLB is not only stylish, but invaluable for its role for a variety of activities.
Safety, protection and comfort are synonymous with the household hoof boot brand - Cavallo. Use your CLBs for miniature horse therapy, hoof rehabilitation, driving on asphalt, gravel and much more.
Keeping Minis Fit and Healthy
Cavallo President Carole Herder has noticed a recent uptick in feedback from mini horse owners: "We often get a lot of response from our customers by email and this year we are noticing a trend. Many mini owners are thanking us for developing a boot that allows them to drive twice as far on outings with their minis, keeping their horses at an optimal level of fitness.
With the boots on, minis go a longer distance. Without these boots, they would have displayed signs of fatigue or soreness much sooner. The thick soles of the boots simply do the work to absorb the concussive force of a hoof against pavement.
Owners and horses feel more confident. Improving traction and providing protection goes a long way to improve performance and decrease risks."
Traction on Winter Ground
Specially formulated TPU soles provide better grip on slick surfaces, such as interior floors and rainy roads. In the winter months, asphalt and other outdoor surfaces can become slick with frost, ice or even snow. To give safety and strong grip on these surfaces, studs can be added to all CLB Boots, and are easily removed once they are no longer required.
Getting Arena Ready
The CLB is becoming a common tool used by minis training for events and shows. Kerri Postletheweight and her daughter, Megan, just returned from the 2019 American Miniature Horse Association World Championships, boasting a win in one of the driving events. Kerri gave credit to her Cavallo CLB Boots for the role they played in the months before their win:
"Without a big indoor arena, the only place we can teach our miniature horses to drive a cart is on a long gravel driveway. Our Cavallo hoof boots protect their hooves from the rocks while driving.
Our mini, Hughie (TWFS Moonlight Playboy), would not have been able to win World Champion in a driving class this year without his Cavallo hoof boots. He moves great in them and it does not affect his action. He has never had a boot slide off while working.
The boots are great for all minis from therapy visits to anywhere you want to take your minis that might be slick or rocky."—Kerri, Eric, and Megan Postletheweight, AMHA members
The Cavallo CLB Hoof Boot is offered in sizes M1 – M4, on Black or Bling (sparkle) upper. To view the CLB product page, please CLICK HERE: https://www.cavallo-inc.com/product-category/hoof-boot/mini-hoof-boots/. Cavallo prides itself on customer service. Not only are Cavallos the best hoof boots available, but Cavallo maintains significant inventory to do the best they possibly can to avoid any backorders.
Visit https://www.cavallo-inc.com to learn about the full line of hoof boots. Want more info? Sign up here for our free newsletter: https://www.cavallo-inc.com/email-signup-AHP. Call (877) 818-0037 from the USA or Canada or call direct, (604) 740-0037.
---
Press release provided by Jenny - Cavallo Horse & Rider