Q: How can I save money on horse care during COVID-19?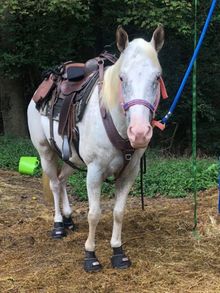 Horse owners are weighing the cost of hoof boots and regular trimming against the costs of continual metal shoeing.
© 2020 by Cavallo
Cavallo President Carole Herder shares her thoughts….
A: The future is vague. These are strange times for American households. Many of us are thinking twice before making purchases, asking "is this necessary right now, or can it wait?" Of course, horse care is non-negotiable. For the conscientious horse owner, neglecting their horse's well-being is not an option. We all know the saying, "No hoof, no horse". So how do we economize with hoof care?
It's Simple. Go barefoot. Horse owners are choosing to pay much less money for a trim, rather than for an entire metal-shoe job. It's working well. A great deal of money can be saved. Just put Cavallo Hoof Boots on your horse when you want to ride and leave your horse barefoot at home. It's not only a healthy solution, but also a frugal one.
Horse Owners Seek More Affordable Hoof Care
Over the past two months, we have received increased communication from first-time hoof boot users. There has been a marked trend in questions coming in. Here are a few of the questions we have answered recently. The answers may help you decide if it's time to pull your horse's shoes to save money.
How long do Cavallo Hoof Boots last?
Answer: Horse owners are weighing the cost of hoof boots and regular trimming against the costs of continual metal shoeing. You can expect a pair of Cavallo Hoof Boots to last for about two years (for regular use, several times per week on regular to moderate terrain). Read about the 180-day guarantee, here: https://www.cavallo-inc.com/warranty-information/
Does Cavallo have an economical boot style? One that would be suitable for those trying hoof boots for the first time or working within a very tight budget?
Answer: Cavallo offers the world's most affordable horse hoof boot. The Cavallo ELB For those still nervous about making the shift to becoming 'barefoot and booted', and for those who are already barefoot but require protection on limited occasions, the Entry Level Boot is the perfect solution. The ELB is also ideal for rehabilitation and therapeutic purposes, and it makes an excellent 'spare tire' for a lost shoe. (The ELB retails at just $69.95 per boot.)
What are the advantages of barefoot and booted hoof care?
Answer: Your horse gets overall hoof protection because the entire hoof is fully protected—especially the softer, more vulnerable sole area. When wearing boots, the hoof functions normally, allowing blood to circulate freely throughout the hoof, guarding against lameness and disease. Plus, the thick Cavallo Boot soles absorb shock/concussion to prevent hoof injury/arthritis or reduce pain caused by prior hoof ailments.
Cavallos also prevent stone bruising, chipping on rough trails, and a horse's sensitivity to gravel. Your horse will have increased grip on rocky trails, asphalt, and wet surfaces (better than metal). You'll also be able to ride in snowy/icy conditions with the use of studs added to boot soles.
When it comes to horse care, you'll find a savings in veterinary bills over the long term because your horse's hooves will be cushioned on hard, dry Summer ground and hard, frozen winter ground. Plus, if your horse does have an injury, boots can double as therapy/rehab boots when required.
Barefoot and Booted – A Savings Plan
When crunching the numbers, horse owners are always amazed at the potential for substantial savings when becoming barefoot and booted. The yearly savings are significant, but when added up over the lifetime of a horse, it can become a large amount of money.
A conservative estimate of the yearly cost of shoeing one horse is $960 USD per year (based on eight shoeings per year, at $120 per shoeing). Additional trimming costs can vary from state to state.
The yearly cost of keeping your horse in Cavallo Hoof Boots: Less than $200 USD, This is a very conservative estimate, based on the price of the Trek Hoof Boot (which retails at $99.95 USD per boot), as a pair of Cavallo Hoof boots is likely to last up to two years or more.
Lower-priced style options are also available. Most often, people choose only to boot the fronts, unless their horse is exhibiting signs of discomfort on the backs, in very rough terrain, or horse's hooves are prone to chipping.
The Incredible Success of the Houston Mounted Patrol
To find a qualified role model, please read the following report from the Houston Police Department Mounted Patrol. It details their long-term savings and decreased veterinarian costs after stopping the use of metal shoes (the Houston Mounted Patrol keep their herd barefoot, using Cavallo Hoof Boots when required):
http://subliberatedhorsemanship.com.liberatedhorsemanship.com/wp-content/uploads/2019/05/Barefoot-Police-Horses-Article.pdf
Notes from Barefoot and Booted Riders:
"I love Cavallo boots, and my mare wears both the Cavallo Trek and Simple Boots. A pair usually lasts us a year or two. All of my riding is done in the Rocky Mountains of New Mexico. The trails are mostly covered in rock. We ride about 300-400 miles a year, so the boots definitely get a work-out! But thanks to Cavallo Hoof Boots, we're able to ride as much as we do on those sorts of trails. And we still save a TON of money by not having to pay $1,200 a year for metal shoes!"
-Lisa Westfall
"We have the ELB's and love them. We're from Florida but haul to the mountains to ride. So, we decided boots will save money in the long run over using shoes. The boots stay on with no issues!"
- Briana Tribett and Suzanna Greer Lindamood
Cavallo President Carole Herder is the author of the #1 International Bestseller, There Are No Horseshoes in Heaven, and the newly released Hoofprints on The Journey. She has been involved in horse health since 1993. Her company, Cavallo Horse & Rider Inc., develops, manufactures and distributes horse products in 26 countries. Herder designed and developed Cavallo Hoof Boots and Total Comfort System Saddle Pads. She presents trainings around the world to teach the benefits of keeping horses in a natural state. Herder is an honored recipient of the Royal Bank of Canada Woman Entrepreneur of the Year Award. She is a member of the Women's Presidents Organization, supporting female entrepreneurs in every industry.
Visit https://www.cavallo-inc.com to learn about the full line of Cavallo Hoof Boots. Want more info? Sign up here for our free newsletter: https://www.cavallo-inc.com/email-signup-AHP. Call (877) 818-0037 from the USA or Canada or call direct, (604) 740-0037.
---
Press release provided by Cavallo Horse & Rider - Jenny