"PJ's bodywork person noted how when she was massaging him, he noticeably relaxed when I put on his Shields. She believes he equates them with comfort, which makes a lot of sense to me," owner Susan B. told Shari Click of Click Horse Products, makers of The Hock Shield®, The Fetlock Shield and new for 2019, The Knee Shield.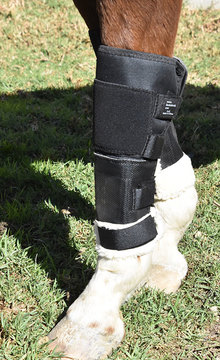 Shari says the horses that tested The Knee Shield no longer have open sores on their knees.
© 2019 by Click Horse Products
Susan was using Fetlock Shields on her Thoroughbred/Warmblood gelding, PJ, when she agreed last summer to try the new Knee Shields.
"PJ has a lot of stiffness and arthritis in his lower back, which causes him to struggle to get up and has resulted in chronic knee and fetlock sores." At almost 17 hands and with long cannon bones, PJ's Knee Shields seemed to work best in conjunction with Fetlock Shields for full coverage.
"PJ has been wearing both Knee and Fetlock Shields for overnight turnout for a few weeks," she told Shari. "He still has his right front knee bandaged but the Shield fits over the bandage to provide extra protection. His left front knee had a sore as I started using the Shields but completely healed on its own. Boy, was I happy about that!"
Six months later, Susan took PJ's Knee and Fetlock Shields off to give him a break, "But unfortunately the sores came back in a few weeks. This isn't unusual because the skin gets so thin at the knee it has a hard time toughening up again. So I'm leaving his Shields on all the time, except when walking or riding him (then he wears tendon and bell boots). He tolerates them well and except for the hair underneath being a bit ruffled, there seems to be no ill effect to having them on 20-22 hours a day."
Like PJ's body worker, Susan observed about PJ: "He actually seems more comfortable when they are on."
It's exactly the kind of happy ending Shari Click was looking for when she began working on solutions to the frustrating horse care problems of joint protection.
"When I am at horse expos with my Hock Shield booth, I am often asked by horse owners, when will I develop a better knee protector?" I've also received requests from Sox For Horses to work on a knee protector. They told me that they have customers who struggle with knee sores. Sox for Horses products, and Hock and Fetlock Shields, have proven an effective combination for horses with bedsores. They sent me several owners who helped test my prototypes and develop the best design. Just like The Hock Shield, it took about 18 months and many prototypes before I was satisfied with the final product."
Bottom line? Shari says the horses that tested The Knee Shield no longer have open sores on their knees.
The Knee Shield is officially in production and available for purchase on www.hockshield.com.
---
Press release provided by Click Horse Products