Core diseases pose a grave danger to horses. Equine veterinarians urge horse owners to provide dedicated care by vaccinating against all the potentially deadly core diseases — West Nile virus, Eastern and Western equine encephalomyelitis, tetanus and rabies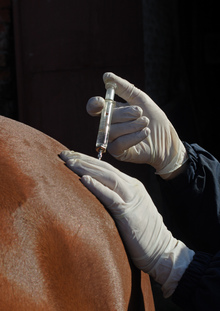 All core diseases can be devastating to horses, and they're not eradicated.
© 2016 by Kondrashov MIkhail Evgenevich
Core EQ Innovator™, is the first and only vaccine to contain all core equine disease antigens in one injection. Watch now >>
"Core EQ Innovator was something that we were very intrigued by because it was a product that allowed us to vaccinate horses for rabies that have never been vaccinated for rabies before," said Maggie Loomer, DVM, Durango Equine Clinic. "It allowed us to vaccinate with ewer injections. The horses were happier about that and the clients seem to be more accommodating. I'm really confident in the product."
Annual vaccination is the only way to protect horses against rabies — a fatal disease once clinical signs appear. Only 1 out of 7 horses is vaccinated against rabies,1,2 a staggeringly low number that puts so many horses at risk for this devastating disease. Rabies is a zoonotic disease, adding an additional threat to horse owners, clinic staff and anyone else exposed to the animal.
"It's hard to imagine why people don't vaccinate their horses." said Eleanor Green, DVM, DACVIM, DABVP, Dean of Veterinary Medicine at Texas A&M University. "I can hypothesize that they're just not informed about the efficacy of these vaccines, as well as the threat to their horse. The vaccines are affordable and highly effective."
Encourage horse owners to take preventive measures to protect the health of their horse through annual vaccination. This single-injection vaccination has been field-tested in more than 1,000 horses with 99.7% of horses being reaction-free.3,4
"I'm excited that we have a new vaccine that includes rabies with the other core vaccines, which is important to me," said Dee Gragg, DVM, co-owner of the Oklahoma City Equine Clinic. "The primary things are efficacy and safety, and I'm comfortable this vaccine covers both.
Now available to veterinarians, Core EQ Innovator™ from Zoetis provides dedicated care to horses to help protect against the potentially fatal core diseases. Contact your Zoetis representative for more or visit CoreEQInnovator.com for more information.
Impact of the U.S. Horse Industry.
2Data on file, Animalytix, Inc., Equine Vaccine MAT dose sales data 2017-2018.
3Data on file, Study Report No. B951R-US-14-056, Zoetis Inc.
4 Data on file, Study Report No. B951R-US-16-106, Zoetis Inc.
About Zoetis
Zoetis is the leading animal health company, dedicated to supporting its customers and their businesses. Building on more than 65 years of experience in animal health, Zoetis discovers, develops, manufactures and commercializes medicines, vaccines and diagnostic products, which are complemented by biodevices, genetic tests and a range of services. Zoetis serves veterinarians, livestock producers and people who raise and care for farm and companion animals with sales of its products in more than 100 countries. In 2018, the company generated annual revenue of $5.8 billion with approximately 10,000 employees. For more information, visit https://www.zoetisus.com.
---
Press release provided by Zoetis