You can still save your summer. Horse owners realize that summer is the best time to be at the barn, but it can also bring horse health challenges that keep you from enjoying your summer adventures. That's where SmartPak comes in with Supplement Experts that are here to save your summer with smart solutions that tackle your common summertime problems.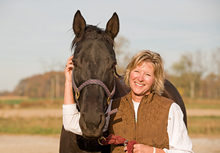 Learn about four of the most common challenges that summer brings, along with smart tips on helping your horse through the summer months.
© 2016 by Shutterstock
"Summer is beautiful, but it can also pose some of the more frustrating health concerns when it comes to caring for your horse," said Sarah Mann, Vice President of Brand and Customer Experience at SmartPak. "As riders and horse owners ourselves, we've all experienced some form of 'what do I do about that?!' moment in the barn.
And as the supplement experts for nearly 20 years, we've answered thousands of horse owner questions about summer struggles. So we're excited to share our top tips for dealing with some of the most common issues."
Here are just four of the most common challenges, along with smart tips on helping your horse through the remaining summer months.
Health Challenge #1: Itchy skin - If your horse is itchy and miserable, the first thing you want to do is talk to your horse's veterinarian about what you're seeing, as they can help uncover the cause. Next, consider using both immediate and long-term solutions, including a fly sheet (ideally with some kind of insect blocker infused in the fabric), topicals designed for horses with sensitive skin, and a daily supplement to support healthy, resilient skin and/or a normal response to inflammation.
Health Challenge #2: Cracking hooves - Poor quality hooves are a common summertime problem. First, you'll want to partner with a qualified hoof care professional and keep your horse on a regular maintenance schedule. One reason you may be seeing this issue crop up is because shifts between wet and dry environments (like going from a dry arena to a bath and then to a dry paddock) can lead to cracks, fissures, and other problems.
To help combat this problem, you can employ a variety of solutions, including limiting the number of shifts between wet and dry environments that your horse's hooves go through, and using a topical that protects your horse's hooves from excess moisture. Also, adding a daily hoof supplement such as SmartHoof® Ultra Pellets helps make sure your horse has the nutritional support he needs to grow strong, healthy, resilient hooves.
Health Challenge #3: Sunbleached coat - While you can't bring back a horse's dark coat color now, you can help prevent it from getting worse now and there are tips for how to maintain it in the future. To prevent it from getting worse now, use a fly sheet with UV protection and spray-on sunscreen (lots of fly sprays offer UV protection now, too!). To help your horse maintain his dark coat in the future, start him early on a coat color supplement, like SmartDark & Handsome®, to help support a dark, shiny coat all summer next year!
Health Challenge #4: Thin mane & tail - Show season can be tough on your horse's mane and tail, but SmartPak has the tips for how to support healthy, resilient hair now and in the future. Besides being sure to gently comb your horse's mane and tail, add strength and resilience with our most popular topicals. In addition, consider adding a daily mane and tail supplement like SmartMane & Tail™ to ensure your horse has what he needs to grow beautiful locks again.
Of course, there are other summertime struggles that your horse may be facing, which is why SmartPak's Supplement Experts are just a call, text, or click away! Visit www.SmartPak.com or call 1-800-461-8898 to get started today on the right summer solutions for your horse.
About SmartPak
From the feed room to the tack room, SmartPak offers innovative solutions to help riders take great care of their horses. SmartPak was founded in 1999 with the introduction of the patented SmartPak supplement feeding system. The revolutionary, daily dose SmartPaks are custom-made for your horse, individually labeled and sealed for freshness. With the success of this simple and convenient feeding system, SmartPak has continued to expand its offering of quality products, including its own line of more than 55 supplement formulas called SmartSupplements, and a wide variety of tack, equipment, and supplies.
The company has grown rapidly each year and is now the largest retailer of equestrian products in the United States. SmartPak's success has been powered by a passion for delivering an unbeatable customer experience, and the company has been recognized with a Bizrate Circle of Excellence award eight years in a row, as well as receiving an "Elite" rating from STELLAService. A nine-time Inc. 500/5000 honoree, SmartPak is the only equine company ever named to the Inc. 500 list.