What is equine pastern dermatitis and how can a sock make the difference? In other words, why can Silver Whinnys® do what everything else has failed to do?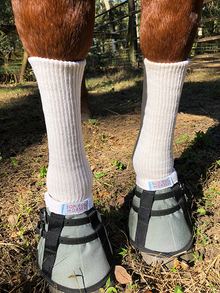 Silver Whinnys are safe, non-toxic, drug-free bandage/barriers that obstruct disease-causing pathogens, insects, dirt, debris, and sunlight (UV) from penetrating the socks and reaching the skin.
© 2020 by Sox for Horses New window.
Equine Pastern Dermatitis is a nightmare. If chronic, it can lead to lameness, continuous inflammation from infection, chronic cellulitis, and with large boned breeds; lymphangitis, Chronic Progressive Lymphedema, and the end your horse's career.
Everything you've tried, all of the vet bills, the medications, the salves, creams and rinses, nothing helps for long and it's back with a vengeance.
The major 3 factors that cause, worsen, and prevent dermatitis from healing are Insect Allergies, Prolonged Exposure to Mud/Moisture and UV sensitivities.
Silver Whinnys are empirically proven to protect your horse from these major factors and many of the lessor causes which can include food allergies, pasture allergies and even allergies to stall bedding. Fungi and bacteria harbored in stalls where other infected horses have stayed is also a liability to competitor's horses.
Silver Whinnys are safe, non-toxic, drug-free bandage/barriers that obstruct disease-causing pathogens, insects, dirt, debris, and sunlight (UV) from penetrating the socks and reaching the skin, effectively ending the cycle of infection/re-infection.
Silver is an antimicrobial and acts to inhibit the growth of bacteria and fungi in the Sox. The most desirable aspects of what a good bandage should be are present. Silver Whinnys allow valuable healing oxygen to reach healing skin which traditional bandages do not. The yarns wick moisture from the skin surface, keeping the legs cool and dry.
Cool dry skin is hostile to the propagation of bacteria and fungi. The silver will not wash out or degrade in power through the life of the Sox.
"Empirically Proven" means evidence that can be seen and experienced. The following testimonials below are only a few stories and comments submitted recently.
(20% Off Silver Whinnys® Coupon Code Below)
Testimonials from satisfied Sox users:
"I love the Sox and have 2 sets and recommend your company all the time. Also your customer service is outstanding! Ever since my gelding had cellulitis two years ago, flies have been a huge problem with his two front legs and the Sox have been a godsend. Without them I'm sure we'd be battling cellulitis every fly season." - Amanda W., Pennsylvania"
"4 weeks with your amazing Sox. We have had problems since last summer. Thank you so much " - @Stalldunder & Hilton K
"I just need to tell you how amazing these Sox are! I purchased a paint gelding who came to me with bed sores... something I had never dealt with, so I thought no big deal. Well, after 9 months of trying everything, I ordered your product and what an amazing difference they have made. The sores are almost completely healed and Walter loves wearing the Sox. I keep them on full time in the front and so he has almost worn out the first Set of 4 so I am ordering more for back up. He gets turned out every day and plays hard, so I was amazed they last as long as they do. Thanks for a great product! I have told my vet about them and anyone else who will listen. : )" - S. R., Hayden, ID
"Melody (Sheza German Melody) is my 20 year old quarter horse mare. After just 24 hours of wearing the Sox, the difference was very noticeable and after 48 hours the difference was remarkable. I just can't believe how good the Sox are. To say I am pleased is an understatement, they work on so many levels and I am genuinely gobsmacked." Stephanie R.Germany
"By far the fastest progression toward healing has occurred since I started using Silver Whinnys" - Suzanne C. and Chase
"I'm so glad that a friend gave me the advice to use the Silver Whinnys. My horse Sinclair hurt his back leg. The wound stayed for almost 3 months and the skin became infected from within. January 10th we started with the Whinnys and now beginning of March his leg is clean. I'm so happy, I wish everyone gets the Silver Whinnys from Sox for Horses.
I hope your company puts my story on your social media. Keep up the good work. My regards. Greetings from Liesbeth, the Netherlands"
Coupon Code: NO-DERMATITIS - 20% off Silver Whinnys Sets of 4
https://soxforhorses.com/buy-now-silver-whinnys/
Pairs are not on sale. Valid Through June 6, 2021 - (Custom Sox - hook and loop, or pull-over, are not eligible.)
US shipping addresses only for online purchases, or if in Canada, email to orders@soxforhorses.com Canadian shipping rates apply.
---
Press release by Sox for Horses