Good hydration is paramount to good health. Horse owners and trainers strive to ensure horses drink readily by managing buckets, hoses, temperature and more.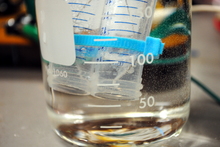 Remember that you can lead a horse to water and when electrolytes work properly, the horse will drink to stay well hydrated.
© 2011 by Andrew (FastLizard4 New window.
Even when the routine at the barn seems to work well, things happen and when something changes, hydration can suffer.
Horses may not drink well if stressed during travel or when they arrive at their new destination to compete and their performance depends on being well hydrated.
Weather changes can also affect how much horses drink. Like us, they tend to drink more in hot summer weather and less in cold winter weather for a variety of reasons but adequate hydration is vital all year-round.
Remember that you can lead a horse to water and when electrolytes work properly, the horse will drink to stay well hydrated.
Grand Prix jumper Jenni McAllister and 3x Longines FEI Show Jumping World Cup Finalist uses Equiwinner not just for everyday good hydration but to take the guesswork out of the more challenging situations. She now manages her horse hydration with more confidence.
Take a look at how she does it in this video. https://www.youtube.com/watch?v=VwFEL4h3xx8&t=2s
With Equiwinner, horse owners and trainers will be able to make their own whatever, wherever and whenever horse plans with confidence too.
This is a good reason always to have an extra box of patches around, to use them individually during transport, or in any stressful situation. An individual patch placed on a horse will keep the electrolytes working properly to help with stress.
Single-use patches should not replace a horse's regular 10-day treatments since there is no long term lasting effect from individual patches. Remember, an individual patch is only good for 24 hours. If a horse is traveling for 2 days, a new patch must be used each day, just like during a 10-day treatment.
Equiwinner is a non-transdermal patch that's all about making the horse's own electrolytes function the way Nature intended. It's safe, effective and easy to use.
One single 10-day treatment can be effective for months, even up to one full year, when used as directed.
Equiwinner patches contain only natural balanced electrolytes. Nothing goes into the horse's body – it simply recognizes the electrolytes in the patches and responds to them.
There are no side effects and Equiwinner will never test positive in any competition, race, event or sport.
Since electrolytes are involved in every physiological process in the body, when you restore them to perfect health, several conditions disappear including bleeding, tying-up, anhidrosis and headshaking.
Proper electrolyte activity will also keep horses hydrated and improve their general performance and health.
To learn more about electrolytes and their effect on horse health and performance, visit https://signal-health.com or call toll-free: 1- 877-378-4946.
About Signal-Health LLC
Signal-Health LLC is the North American distributor of EquiwinnerTM patches. The company is based in Mesa, Arizona, USA and in Thunder Bay, Ontario, Canada.
---
Press release by Barbara Socha - Signal-Health