September is Childhood Cancer Awareness Month, bringing awareness to the leading cause of death by disease for children under the age of 14. Available now exclusively at https://flairstrips.com/kick-childhood-cancer/, the new "Kick Childhood Cancer" FLAIR Strips are designed to acknowledge and support the toughness that kids with cancer and their families face every year.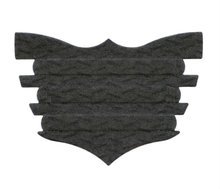 A portion of sales of the Kick Childhood Cancer horse nasal strip will be donated to St. Jude Children's Research Hospital.
© 2019 by FLAIR LLC New window.
In 2014, Flair LLC debuted a "For the Kids" Gold FLAIR Strip that 2xNFR Barrel Racer Nancy Hunter championed to bring more awareness to Childhood Cancer. Nancy had a very special place in her heart for Childhood Cancer, as one of her son's battled cancer at a young age and fortunately won the fight.
However, on March 12, 2017 Nancy passed away after a courageous battle with pancreatic cancer. Flair continues to honor Nancy's legacy with a Limited Edition Gold FLAIR Strip. We've retired the "For the Kids" FLAIR Strip design and are pleased to debut the new "Kick Childhood Cancer" design.
The gold ribbon color in honor of international awareness for Childhood Cancer shines a light on this cause to which Flair will donate 25% of each sale to St. Jude Children's Research Hospital. Their website states that "The mission of St. Jude Children's Research Hospital is to advance cures, and means of prevention, for pediatric catastrophic diseases through research and treatment. No child is denied treatment based on race, religion or a family's ability to pay."
About Flair, LLC: Flair LLC is dedicated to evidence-based products for health, welfare and performance of horses. Based in Minnesota, Flair is the maker of FLAIR® Equine Nasal Strips. Developed by veterinarians, FLAIR Strips are drug-free, self-adhesive nasal strips that support horses' nasal passages and promote optimum respiratory health of equine athletes at every level of competition. More than eight clinical studies have been conducted on FLAIR Strips at leading equine research centers. The Strips are clinically proven to make breathing easier, reduce fatigue, conserve energy, quicken recovery, and reduce lung bleeding. For more information about FLAIR Strips, please visit http://www.flairstrips.com.
---
Press release provided by Hanna Hartman