Performance horses have different nutritional needs depending on their competition schedule. Implementation of a multi-level feeding program will maximize their potential for success as equine athletes, and will provide the right nutrition on the right timeline.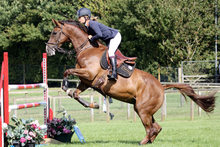 While top quality feed may cost more per pound, the horse's utilization of nutritional benefits outweighs the additional expense as often less feed is required.
© 2012 by Mark Kent
Every competition discipline also places varying nutritional needs on the diet of the sporthorse. For example, an eventing horse may require a more varied feed program than a showjumper or dressage horse due to the demands of the three sports they participate in over the course of a weekend.
The savvy horse owner knows that optimal health for their horses comes not from quantity of horse feed, but quality. While top quality feed may cost more per pound, the horse's utilization of their nutritional benefits outweighs the additional expense as often less feed needs to be fed. Choose a line of grain products that offers the same foundation across all their competition feeds, as this will minimize the risks associated with changes in diet and increase the digestibility of each level of feed. Good quality forage and water must also be provided at all times.
A great foundational feed for competition horses will include safe levels of starch that are in a highly digestible form such as barley or corn flakes. It will incorporate high quality protein sources that supply a broad chain of amino acids, which are the building blocks for muscles, tendons and ligaments, and provide the necessary nutrients to recover from intense periods of training.
Look for feeds that have added prebiotics to provide nutrients that support the growth of 'good' bacteria in the intestinal flora of the horse to reduce gastric upset. The feed you choose should incorporate a supply of energy in a balanced method through fats and carbohydrates.
Having a lot of each nutrient is not necessarily better than having the right balance of nutrients. It's as important to look at what is in your feed, as it is to look at what is not in your feed.
As the horse's training intensifies, it needs more energy in its diet. Puffed grains can improve starch digestibility in the foregut from an average of 5-50% to 85-90%. The requirements for additional vitamins and minerals needed to help support the horse's joints, bones, tendons and muscles are also heightened.
Increased stress on the equine athlete can be managed through the addition of live yeast cultures to increase the consumption of lactic acid in the gut that is created through exercise. The provision of boosted Omega 3 fatty acids will support overall health, immunity and condition.
For certain disciplines such as endurance and dressage, where the equine athlete requires a lasting energy source, a grain diet that provides a boosted supply of long-term energy sources in a properly balanced form together with electrolytes, bound copper, zinc and manganese and additional Vitamin E and Selenium is beneficial.
The horse owner should consider the timeline for implementing the changes in grain for peak performance of their equine partner. For example, a change to a lasting energy feed can take 6 to 8 weeks for the horse to reach peak endurance effect.
On the other hand, in a discipline that requires explosive efforts and raw power such as showjumping, racing or barrel racing, or even a lazier horse, will benefit from switching to a feed that offers a different balance of safe starch, vitamins, minerals and electrolytes. This feed swap made 2 or 3 days before competition can make a significant improvement in performance.
Perhaps you have a multi-functional stable and have lesson horses, horses in training and show horses. For a quality all around grain, consider a multi-functional product that delivers a balanced supply of vitamins and minerals but is specially formulated for easy keepers while offering great digestibility through high quality puffed or flaked grains.
Top competitors such as Beezie Madden and Anky Van Grunsven, are no strangers to the international circle, and are fully cognizant of the benefits of a multi-level feeding program and use Cavalor® products.
"I have seen the success of the products and more importantly the condition of the horses improved tremendously, being fed with Cavalor®. Also global availability is important, to maintain feeding continuity," says Madden.
"Thanks to the superb quality of Cavalor® feeds and supplements, my horses are in top form, day after day. Being able to fine-tune nutritional details for each horse is key to winning," states Van Grunsven.
Join the winner's circle and address your sport horse needs and utilize the specially formulated feeds of Cavalor®, as part of your overall optimal equine health strategy. Choose from Action Mix – Level 1, Perfomix – Level 2, Endurix – Level 3, Superforce –Level 4, and Fifty Fifty – Balancer.
When you put your trust in the Cavalor® brand rest assured that their research has led to demonstrated effectiveness across their line of feed and supplements, and all products are guaranteed 100% doping-free.
By Nikki Alvin-Smith
For more information on the full range of products, that include feed and supplements for sport horses, horses requiring special care, breeding stock, recreational horses and horses on rest that are available from Cavalor® please visit http://www.cavalor.com/us-en
This article is brought to you courtesy of Cavalor North America, Dalton, GA– Kindly visit their website at http://www.cavalor.us to learn more. Dealer inquiries are welcomed.
About Cavalor® North America, Dalton, GA: Cavalor is a global brand that can justifiably be called the world leader in equine nutrition for high-performance horses. Cavalor® products are available in more than 50 countries worldwide and are used by champion riders. Cavalor® offers a complete line of horse feed, supplements and care products.
The company's values are: Innovation - Quality - Results. They dedicate themselves to inventing, manufacturing and distributing the best quality and most effective equine nutrition products in the world for the health, performance and happiness of all horses, from a foal's first steps to retirement.
Please visit http://www.cavalor.us to learn more about their top quality line of products used by advanced riders for their high performance horses, 'when the result counts.'
About Nikki Alvin-Smith: Internationally published freelance writer in such world renowned publications such as The Chronicle of the Horse, Horse and Hound, Dressage and CT, Warmbloods Today, The Horseman's Yankee Pedlar, Reiter, The Equine Journal, Spur, Hoofprints, Horsin' Around, Horses All, Field & Stream, Western Horse and Gun, Pony Quarterly, Horses All Canada, Catskill Horse to name a few. Ghostwriting, blog services, PR/Marketing copy either direct with manufacturer or for agencies, copy editing and editor services also available. Nikki also produces catalog copy, white papers, e-books, corporate brochures and advertising copy for international corporations and PR/Marketing for celebrities.
As a Brit who has called the America home for the past 34 years, Nikki brings a unique perspective to the equestrian world. Nikki is also an accomplished Grand Prix dressage trainer/competitor, competing at international Grand Prix level to scores over 72% and is a highly sought clinician offering clinics worldwide. She has been a horse breeder/importer of warmblood and Baroque breeds for more than 25 years. Together with her husband Paul who is also a Grand Prix trainer, they run a private dressage breeding operation and training yard in the beautiful Catskill Mountains of New York.
Please visit https://nikkialvinsmithstudio.com/ to learn more about her affordable services.