Ask any veterinarian or animal owner what their Holy Grail would be for healing injuries and wounds, and they'd answer, "A product that has no adverse reactions and helps tissues heal faster to their original state with no chance of re-injury."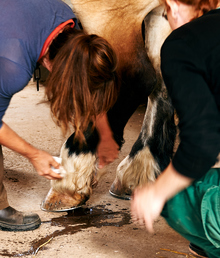 Regenaflex can be used to accelerate and improve healing from osteoarthritis, tendon/ligament injury, fasciopathy, fractures, and a number of wounds common in horses.
© 2018 by Mark Sellers New window.
While no product can guarantee complete success with zero chance of re-injury, the mechanism behind Hilltop BioSciences' upcoming Regenaflex checks one of those boxes by being reaction-free since the 1920s--and it comes a lot closer to zero-reinjury rates than current therapies.
What is it? Regenaflex is a product made from freely donated birth tissues of horses foaling in equine hospitals. After aseptic processing, Regenaflex is a shelf-stable product that can be used immediately.
What does it treat? Regenaflex can be used to accelerate and improve healing from several conditions including osteoarthritis, tendon/ligament injury, fasciopathy, fractures, intestinal anastomosis wounds, non-healing wounds, and eye wounds (we call this the new veterinary multi-tool!). This therapy has been proven to improve the quality of healing, resulting in repairs with less scarring and thereby less chance of reinjury compared to other therapies.
How does it work? The efficacy in this regenerative matrix is related to a full spectrum of growth factors, miRNA, peptides as well as healthy extracellular matrix. This provides all of the sections of the regenerative orchestra needed for tissue regeneration with reduced scarring. Research suggests that Regenaflex has anti-inflammatory and anti-scarring effects.
How safe is it? Before donated birth tissues/fluids are processed into Regenaflex, they are tested extensively for disease including equine infectious anemia (swamp fever), piroplasmosis, Lyme disease, and many more. After use, study after study of this technology reports a remarkable finding: Zero adverse events or side effects.
Also, since the treatment materials are not harvested from the injured animal, there are no harvesting procedure/site injuries or reactions.
How can I get it? Regenaflex will be available for purchase in January 2020 and veterinarians will be able to purchase directly from the website as soon as product is available. Join the newsletter to be the first to know about our new products! www.HilltopBio.com
"We are excited to launch this reimagined regenerative matrix product that will change the way we treat our equine partners," said co-founder/CEO Amanda Drobnis. "Regenerative therapy is ever-evolving and we are working on the next generation of science and understanding to provide a new multi-tool to our vets that will help improve the health and function of our equine athletes."
Our goal is to help your clients' horses (and ours!) heal better and faster from injuries and osteoarthritis. For more information, please visit us at booth #849 at the American Association of Equine Practitioners Convention in Denver, Colorado, or visit www.HilltopBio.com.
About Hilltop BioSciences
Hilltop BioSciences was founded in 2018 by Amanda Drobnis and Mark Williams. They closed on their Series Seed funding in July of 2019 with Launchpad Venture Group as the lead investor. They are very excited to announce their board of directors includes Denise Bevers, co-founder and COO of Kindred Bio; Jill Wittels Ph.D, of Launchpad Venture Group; Jessica McLear of Launchpad Venture Group; and Alan Watson Ph.D, of Cherrystone Angels. David Dutton, DVM, Dipl. ACVS, owner of Hill Country Equine in Boerne, Texas, is the chief veterinary officer.
Dr. Dutton has many years of experience with developing and using different regenerative therapies to help his clients' horses heal after injury. His vast experience in this space has helped Hilltop Bio create the next generation of regenerative therapy.
---
Press release provided by CEO Hilltop BioSciences, Amanda Drobnis