Tia Nelson, DVM, a veterinarian and farrier in Helena, Montana, says horses are both amazingly tough and very fragile. Joint lacerations – at the knee or hock – are especially hard to treat because they are "almost impossible" to immobilize.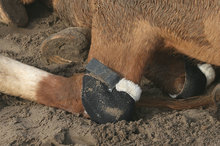 Easy to fit and machine washable, Hock Shields and Hock Shields Ultra offer horses with hock sores and chronic wounds superior protection.
© 2018 by Click Horse Products
"Horses tend to panic if you try to cast these joints. They wake up and find they can't flex their limb. If a horse lacerates an area where there's a lot of motion, be prepared for months of recovery. It will heal, but it takes a long time."
One of the goals of wound management is to keep an injury from becoming chronic, especially in older horses that are facing other health issues, like a decreased immune system.
"As the aches and pains of old age worsen, many horses start depending on their hocks even more to help them get up," says Shari Click, horse owner and founder of the popular equine joint protection wear called the Hock Shield and Hock Shield Ultra. According to a Ralston study, roughly 70% of horses over the age of 20 develop conditions that require special care.
A horse owner from Lodi, California, told Shari that Hock Shields had made the difference between life and death for her aging gelding: "Her old horse really struggled to get up and had turned his hocks into a bloody mess. She told me that she was going to have to put him down if she couldn't find a solution.
I sent her a pair of Hock Shield Ultras. When she called several months later to reorder, she was so happy, because his hocks were healing and she didn't have to say good-bye to her horse and friend just yet."
Another long-time customer in Georgia had been ordering Hock Shields for his 29 year-old Quarter Horse for nearly three years and reported how his "old guy" is still in pretty good shape for his age.
"I told him that it looks like he does what is needed to keep his horse comfortable. He told me if Hock Shields had not helped straighten out his hock problems, his horse probably wouldn't still be here. That, he said, was a testament to my product."
Easy to fit and machine washable Hock Shields and Hock Shields Ultra offer horses with hock sores and chronic wounds superior protection and have earned the praise of Long Riders Gear and Pro Equine Grooms. Replacement elastic straps just $5/pair. Order now in time for a great holiday gift for the horses and horse owners in your life at www.hockshield.com or call (831) 426-1206.
---
Press release provided by Click Horse Products