When you visit California horse owner and equine products entrepreneur Shari Click's website, HockShield.com, you can't miss the Standardbred horses who make their presence felt on every page.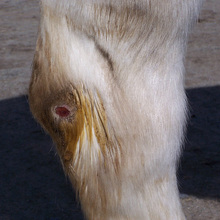 Hock Shields and Fetlock Shields have won praise for superior protection from reining and cutting horse competitors, Pro Equine Grooms, and Long Riders Gear.
© 2018 by Click Horse Products, Inc
"Faith and Whinny came as 'legs won't hold up to racing' three-year-olds," said Shari, who opened RMR Horse Sanctuary in Santa Cruz in 2007 to give Standardbreds rejected or retired from harness racing a place to start a new life. After seeing an "overwhelming number" of horses suffering from hock sores, she had devised an adjustable protective shield that could accommodate the expansion of a hock joint through a wide range of motion. That became the Hock Shield.
"My parents knew a gal who worked at the (Cal Expo) track. I got my first rescue horse from her and then several more after that, plus two (including Whinny) from Shannon Johnson at Trot.org, who operates a rescue near Sacramento."
In fact, the moment of 'welcome' between Whinny and a new arrival, Olive, has been forever captured in Shari's well-known Click Horse Products logo.
"Shannon gave me two young ones – Fanny and Whinny -- to make room for a horse that needed rehab work. She was so generous with her time as I was just starting out! I asked her the biggest lesson I should learn before taking in any Standardbred and she said, 'Learn to say NO.' I think she had 70-80 horses on her property at the time (2007) and was overwhelmed."
"My parents knew Lehigh (the gal from the track) from riding the Highway 50 Wagon Train from Tahoe to Placerville. She needed a home for a two-year-old she worked with and contacted Dad because the horse was harness-broke so Dad might want him as a carriage horse, since my dad restores wagons and carriages.
"Lehigh gave them a young gelding named River City Speed. We renamed him Lehigh. I asked Mom if I could bring him to Santa Cruz to try my hand at training a riding horse and that was the beginning of my horse training and Standardbred journey! Mom and Dad gave me Lehigh for Christmas because they knew I had fallen in love with him and he was never going to return to Fiddletown. I rode him almost every day until his retirement when he actually did return to the pastures in Fiddletown. We put him down just last year."
Shari's Fiddletown family has its own horse stories worth sharing: "Mom and Dad met at church in southern California. Dad asked Mom to go riding with him. He thought he would have to saddle her horse for her, but she jumped on bareback and galloped off. That's when he knew he'd found the right one!
"They just celebrated their 65th wedding anniversary. They sold their ranch in 1976 and headed off on the Bicentennial Wagon Train with their team of Belgian mules, Jim and John. They went from California to Pennsylvania via the reverse Santa Fe Trail. I joined them in Dodge City, Kansas and went the rest of the way. Part of the trip took a river barge down the Missouri and Mississippi, and then up the Ohio River to get off in Pittsburgh (PA). It was quite an adventure!"
About Hock Shields by Click Horse Products
Hock Shields and Fetlock Shields have won praise for superior protection from reining and cutting horse competitors, Pro Equine Grooms, and Long Riders Gear, with replacement elastic straps available for just $5 a pair. Learn more at www.hockshield.com or call (831) 426-1206.