It doesn't matter what breed of horse you own or whether you keep it as a family pet or compete it as an advanced level performance ride or something in-between, by their very nature all horses benefit health-wise from freedom to roam.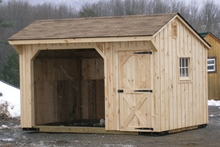 Through engaging passionate supporters, collaboration, and talents of equine charities nationwide, EQUUS will help ensure a sustainable environment for horses.
© 2010 by Alan Bernau JrAlan Bernau Jr
Increasing turnout time can solve many equine behavioral issues, and physical ailments such as arthritis can be mitigated by provision of space for your horse to move around.
Whatever the season, these are great reasons to keep your horse outside as much as possible and the availability of the simple run-in shed fulfills the horse's need for shelter in a cost effective way.
When you are shopping for a shed it is important to note that all run-in sheds are not created equal, and safety of horses using the structure can be negatively impacted if you make a mistake in design.
A prefabricated run-in shed is a budget friendly choice and has an added bonus of "have shed will travel," should you move down the road. This means your original capital investment is never wasted, and you can have immediate horse housing available as soon as you have a move-in date established at a new property.
This is particularly useful for trainers, who may move more frequently as their business develops. Companies that build their run-in sheds in their factory and deliver, will offer services to move the shed at any time in the future.
Look for a prefabricated run-in shed design that encompasses anchor points so it can also be moved around the property fairly easily with the use of a tractor with a chain attached to the built in anchor points on the structure. There are also anchor kits available that can be utilized in hurricane prone areas to minimize risk of the structure doing any "Wizard of Oz" moves.
The most inexpensive way to add more shelter space to your run-in shed is the addition of an overhang. This is an extremely popular feature as it provides a significant increase in the amount of useable shelter available at a very reasonable additional cost.
Over time run-in sheds will take some abuse from horses so make sure the shed you choose is of a sturdy build with good quality materials. For safety, siding should be made of wood not metal. This is imperative if the building is to be placed within a field where horses have access to the rear and sides of run-in shed.
The interior of the structure should be kick-boarded with dimensional lumber, to prevent a horse sustaining considerable injury should an errant kick hit the wall or if the horse becomes cast.
The natural insulating properties of wood also provide a cooler interior in summer and a warmer interior in winter. The height of the structure should be high enough that a horse won't be able to reach the roof or hit his head on the eaves running in and out of the run-in shed.
Always make the run-in shed wider rather than deeper when providing shelter for more than one horse, to mitigate the chances of a bossy horse bullying others out of the building or cornering a horse lower in the pecking order. For larger groups of horses it is a great idea to add two run-in sheds in one pasture to accommodate herd dynamics.
If you are contemplating purchasing a new run-in shed this winter, the good news is that you might even be able to score one for free! Leading horse barn manufacturer Horizon Structures LLC, are running their 2nd Annual Run-In Shed Sweepstakes October 15th through December 1st, 2019. Watch this space! We'll keep you posted with details or visit them directly at www.HorizonStructures.com and check out their Facebook page for more information.
Please contact Nikki@NikkiAlvinSmithStudio.com
This article is brought to you courtesy of Horizon Structures Inc., Atglen PA – Modular horse barn and indoor riding arena specialists. Horizon Structures also offers both residential and commercial kennels, coops, multi-use structures and playsets. Please visit https://www.HorizonStructures.com to learn more.
About Horizon Structures: One horse or twenty, there's one thing all horse owners have in common...the need to provide safe and secure shelter for their equine partners. At Horizon Structures, we combine expert craftsmanship, top-of-the-line materials and smart "horse-friendly" design to create a full line of sheds and barns that any horse owner can feel confident is the right choice for their horses' stabling needs.
All wood. Amish Made. Most of our buildings are shipped 100% pre-built and ready for same-day use. Larger barns are a modular construction and can be ready for your horses in less than a week. All our barn packages include everything you need -
Horizon Structures also sells indoor riding arenas, chicken coops, dog kennels, 1 and 2 car garages, storage sheds and outdoor living structures.
Headquartered in South-Central Pennsylvania, Horizon Structures, LLC is owned by Dave Zook. Dave was raised in the Amish tradition and grew up working in the family-owned shed business. He started Horizon Structures in 2001 in response to an ever-increasing customer demand for high quality, affordable horse barns.
For additional information about the company or their product line, please visit their website at https://www.horizonstructures.com
About Nikki Alvin-Smith: International published freelance writer and creative content producer. Ghostwriting, blog services, PR/Marketing specialist. Nikki also produces catalog and website copy, white papers, e-books, corporate brochures and advertising copy for a wide range of businesses.
As a Brit who has called the America home for the past 34 years, Nikki brings a unique perspective to the equestrian world. Nikki is also an accomplished Grand Prix dressage trainer/competitor, competing at international Grand Prix level to scores over 72% and is a highly sought clinician offering clinics worldwide. She has been a horse breeder/importer of warmblood and Baroque breeds for more than 25 years. Together with her husband Paul who is also a Grand Prix trainer, they run Willowview Hill Farm, a private dressage breeding operation and training yard in the beautiful Catskill Mountains of New York. Please visit https://nikkialvinsmithstudio.com/ to learn more about her affordable services.