It's almost impossible to overstate the added benefits that the addition of an overhang to a horse barn building brings to the world of horse care.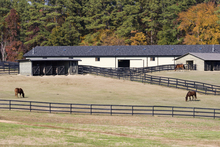 The overhang provides shelter for the horses from rain showers, bad weather and the baking rays of the sun.
© 2012 by Shutterstock New window.
The overhang is a finishing touch that beautifies the building and also serves several sincere purposes. Plus it is relatively inexpensive to include in your new horse structure plans. Also known as a lean or lean to, most run-in sheds and shedrow barns incorporate an overhang. The overhang is extremely popular for good reason.
Typically the overhang extends the roof for either the width or length of the building and can be an additional roof tier or a simple extension of the existing main roof.
It is imperative that the overhang is built to meet or exceed the National Building Code. The construction should provide a strong, weight bearing capacity to ensure the overhang will stand up to extreme weather. Be sure to check with your construction company to make certain this is the case.
Take a look at these reasons why you should not forget the overhang in your barn build:
The overhang will protect the stall area of the structure from wind, rain and hot sun. This means your horse can happily munch his hay with his head out of his Dutch door without being subject to the elements. In a run-in shed construction the overhang provides shelter for the horses from rain showers, bad weather and the baking rays of the sun, making it the perfect solution to protect the horses for the busy equine owner who is not always home to bring the horses inside during poor weather. Horses will use a run-in shed more frequently in summer than winter, and shade also means less flies. The overhang will increase their area of shelter and may minimize the amount of mucking out you need to do in their stalls as a result.
The stall entry areas are necessarily high traffic regions of the barn and without an overhang your beautiful grassy entrances will quickly become quagmires of mud. In winter the advent of snow and ice may make them slippery and dangerous. Provision of an overhang will protect these areas from water and the unnecessary tracking of dirt and debris into the barn. When snow falls of the roof and builds up outside the building the barn interior will be protected from snow melt and water damage. It will provide another barrier of protection from deterioration from sun and rain, to the siding and doors.
There are a myriad of added daily uses the overhang provides for the horse owner. A clean dry space for cross ties and a place for vet, farrier and care providers to work is always a blessing. When adding electric to your barn it is a good idea to include exterior grade electrical outlets away from the horse's reach, for use by your health professionals for their equipment. You can also use this extended covered space to tack up your horse, store provisions and horse equipment. You can always enjoy 'a quick cuppa' between grooming or clipping sessions under the shelter of the overhang. It provides a place to chat with students and friends without being in the aisleway. You can enjoy watching your horses graze in the pasture or beg for carrots from their Dutch doorways out of wind, sun and rain.
Don't forget the finishing touches! An overhang provides the perfect decorating area to enhance your barn with hanging flower baskets, holiday lights and extra wall space for barn blackboards, signage and personal touches such as ribbon cases and cupboards to store wraps and medical kits.
The overhang is one of the best ways to enhance both form and function of your horse structure when working on a tight budget. Ask your builder about different size options and don't forget to make sure the overhang meets or exceeds building codes.
This article is brought to you courtesy of Horizon Structures Inc., Atglen PA – Modular horse barn and indoor riding arena specialists. Horizon Structures also offers both residential and commercial kennels, coops, multi-use structures and playsets. Please visit https://www.HorizonStructures.com to learn more.
About Horizon Structures: One horse or twenty, there's one thing all horse owners have in common...the need to provide safe and secure shelter for their equine partners. At Horizon Structures, we combine expert craftsmanship, top-of-the-line materials and smart "horse-friendly" design to create a full line of sheds and barns that any horse owner can feel confident is the right choice for their horses' stabling needs.
All wood. Amish Made. Most of our buildings are shipped 100% pre-built and ready for same-day use. Larger barns are a modular construction and can be ready for your horses in less than a week. All our barn packages include everything you need -
Horizon Structures also sells indoor riding arenas, chicken coops, dog kennels, 1 and 2 car garages, storage sheds and outdoor living structures.
Headquartered in South-Central Pennsylvania, Horizon Structures, LLC is owned by Dave Zook. Dave was raised in the Amish tradition and grew up working in the family-owned shed business. He started Horizon Structures in 2001 in response to an ever-increasing customer demand for high quality, affordable horse barns.
For additional information about the company or their product line, please visit their website at https://www.horizonstructures.com
About Nikki Alvin-Smith: International and national published freelance writer and photographer in such world renowned publications such as The Chronicle of the Horse, Horse and Hound, Dressage and CT, Warmbloods Today, The Horseman's Yankee Pedlar, Reiter, The Equine Journal, Spur, Hoofprints, Horsin' Around, Horses All, Field & Stream, Western Horse and Gun, Pony Quarterly, Catskill Horse to name a few. Ghostwriting, blog services, PR/Marketing copy either direct with manufacturer or for agencies, copy editing and editor services also available. Nikki also produces catalog copy, white papers, e-books, corporate brochures and advertising copy for international corporations and PR/Marketing for celebrities.
As a Brit who has called the America home for the past 34 years, Nikki brings a unique perspective to the equestrian world. Nikki is also an accomplished Grand Prix dressage trainer/competitor, competing at international Grand Prix level to scores over 72% and is a highly sought clinician offering clinics worldwide. She has been a horse breeder/importer of warmblood and Baroque breeds for more than 25 years. Together with her husband Paul who is also a Grand Prix trainer, they run a private dressage breeding operation and training yard in the beautiful Catskill Mountains of New York. Please visit http://www.NikkiAlvinSmithStudio.com to learn more.
By Nikki Alvin-Smith