Most riders and horse trainers have experienced the interruption of their lesson due to an off leash dog trotting boldly into the arena. Hopefully the canine did not make his entrance in the middle of your qualifying ride for a competition slot or while you were riding your horse for the first time.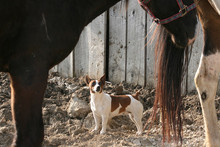 For both the dog owner and the property and/or business owner, dogs can be a headache for to monitor, even if you are on site all the time.
© 2017 by Val
On the last occasion such an interruption occurred on my farm, my student's husband had deigned to come and watch her ride. She had been working with me for over a year and so she was extremely excited to showcase her equestrian improvements. As she warmed up on our FEI schoolmaster, Westminster, a 17.2 hh Hanoverian who has the kindest of souls and was well used to our Miniature Schnauzer being present in the barn, her husband arrived and pulled his Jeep up to the indoor arena doors.
He opened the back door of the vehicle and out leapt a stunningly beautiful Golden Retriever. Perfectly groomed and calendar worthy in every aspect, this large dog bounced out of the SUV and ran excitedly into the building. Our tolerant, kind lesson horse halted abruptly and froze on the spot. His eyes opened wide with a rim of white in the corners indicated to me this was not going to go well.
The student also froze, ignored my instructions in her nervousness caused by the tension she felt in the horse's body and you know what happened next I'm sure. The horse spun around and bolted off before I could reach it and the rider had no choice but to take an impromptu ride outside.
As she was an accomplished rider (when she was listening), I had not bothered to gate the huge indoor doors to keep her safe inside. Westminster, being the good lad that he is, did not buck or do anything to cause the rider to come off. Once he was far enough away from the canine he came down to a trot and I went off to fetch him home.
Yes I should have shut the doors, yes I should have a dedicated parking space for visitors and rules posted that they will hopefully obey about leashing dogs and keeping them out of the riding areas or barn aisles and pastures. But things happen. Happily this time no-one was hurt. Horses will be horses and dogs will be dogs.
If you have a busy riding stable then your boarders/students probably often ask to bring their dogs along with them. The occasional dogfight may ensue, a child may be nipped when playing with a dog who does not tolerate their playful antics, or a rider may depart the saddle unexpectedly when mounted if their horse becomes frightened by a canine presence.
It is particularly hard to say no to family who want to bring their dogs along for a visit but whose dogs you are not quite so keen to leave alone in your home or to mix with your own dogs when you are not there to keep a watchful eye on their activities.
These instances all present a clear liability for both the dog owner and the property and/or business owner and the dogs can be a headache for you to monitor, even if you are on site all the time.
The obvious answer is to provide a kennel where the canines, belonging to both visitors and yourself, can be kept safe and secure from an errant kick from a horse or from running off into horse pastures to chase down a horse.
Kennels are available in both residential and commercial grade, and an experienced kennel builder will provide a structure that is easy to clean with modern materials utilized in all the right places, correct drainage placement, a light airy environment with windows, and heating and cooling options.
You can include a pen with the kennel with a door that allows the dogs the freedom to go in and out as they please with a storage space and have an interior kennel space of a height that allows you to stand up to your full height when feeding and cleaning.
When you think about it you could even offer to board your client's dogs when they are off showing or vacationing. If they trust you with their 1500-pound equine beastie, they'll probably trust you with their canine. It'll give you a chance to make a bit of extra cash. You could actually fund your kennel purchase if you make payments on a kennel through a company that offers financing on their own products.
Look for a company that is experienced in kennel design, and one that can deliver the kennel you need quickly and set it up without fuss. If your resource the right manufacturer you will find they also offer a myriad of siding colors and materials, so the exterior can be virtually maintenance free and complement your barn and home.
This article is brought to you courtesy of Horizon Structures Inc., Atglen PA – Modular horse barn and indoor riding arena specialists. Horizon Structures also offers both residential and commercial kennels, coops, multi-use structures and playsets. Please visit HorizonStructures.com to learn more.
About Horizon Structures: One horse or twenty, there's one thing all horse owners have in common...the need to provide safe and secure shelter for their equine partners. At Horizon Structures, we combine expert craftsmanship, top-of-the-line materials and smart "horse-friendly" design to create a full line of sheds and barns that any horse owner can feel confident is the right choice for their horses' stabling needs.
All wood. Amish Made. Most of our buildings are shipped 100% pre-built and ready for same-day use. Larger barns are a modular construction and can be ready for your horses in less than a week. All our barn packages include everything you need.
Horizon Structures also sells indoor riding arenas, chicken coops, dog kennels, 1 and 2 car garages, storage sheds and outdoor living structures.
Headquartered in South-Central Pennsylvania, Horizon Structures, LLC is owned by Dave Zook. Dave was raised in the Amish tradition and grew up working in the family-owned shed business. He started Horizon Structures in 2001 in response to an ever-increasing customer demand for high quality, affordable horse barns.
For additional information about the company or their product line, please visit their website at https://www.horizonstructures.com
About Nikki Alvin-Smith: International and national published freelance writer and photographer in such world renowned publications such as The Chronicle of the Horse, Horse and Hound, Dressage and CT, Warmbloods Today, The Horseman's Yankee Pedlar, Reiter, The Equine Journal, Spur, Hoofprints, Horsin' Around, Horses All, Field & Stream, Western Horse and Gun, Pony Quarterly, Horses All Canada, Catskill Horse to name a few. Ghostwriting, blog services, PR/Marketing copy either direct with manufacturer or for agencies, copy editing and editor services also available. Nikki also produces catalog copy, white papers, e-books, corporate brochures and advertising copy for international corporations and PR/Marketing for celebrities.
As a Brit who has called the America home for the past 34 years, Nikki brings a unique perspective to the equestrian world. Nikki is also an accomplished Grand Prix dressage trainer/competitor, competing at international Grand Prix level to scores over 72% and is a highly sought clinician offering clinics worldwide. She has been a horse breeder/importer of warmblood and Baroque breeds for more than 25 years. Together with her husband Paul who is also a Grand Prix trainer, they run a private dressage breeding operation and training yard in the beautiful Catskill Mountains of New York. Please visit NikkiAlvinStudio to learn more.
Article by Nikki Alvin-Smith
---
Press release courtesy of Horizon Structures