Like most good horse owners, you've probably considered the need for shelter from the sun, wind, rain and snow for your horse. The humble run-in shed offers a flexible and inexpensive solution for horse housing that enables your equine partner to seek cover when it feels the need.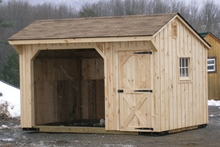 When the opportunity is provided for shelter, the horse is a good judge of whether or not it needs to utilize the option.
© 2010 by Alan Bernau Jr
Horses are surprisingly adaptable to weather changes especially when we don't over manage their needs. In winter our desire to "take care" of them by shutting them inside or providing layers of blankets can backfire miserably with horses unable to sustain their own thermostatic balance through the ability to move, sweat and garner the necessary ventilation for lung health and dissipate moisture on their skin surface.
When we clip, bathe away natural oils and generally interfere with Mother Nature we may further complicate their overall health. These activities don't just affect a horse during winter months but also in summer. Horses can and do suffer heat stroke, photosensitivity, sunburn and other skin issues.
Whatever the weather, free access to clean water is critical for the horse to manage its own metabolic health and temperature regulation.
You may notice your horse will seek the shelter of a run-in shed or line of trees more in summer than winter. It is not just the heat of direct sunrays the horse is attempting to avoid, the shady environment is less attractive to annoying insects and if properly sited can still provide a cooling breeze or flow of wind to dry the sweat that the horse will naturally produce to self-regulate its body temperature.
A horse with a thick winter coat that is moved from a cold, snowy winter environment to a humid, sticky region will need some help to adapt to its new climate. Similarly, a horse that is used to warmer temperatures and has a shorter coat, will require help to adjust to rainy, cold or snowy days.
The most important factor is not just whether to clip or blanket, but also to give the horse time to adjust to the new temperatures and weather elements. Obviously, a horse that is ill or metabolically challenged, under or overweight, elderly or very young, will have more difficulty adapting to a change in climate than one that is strong and healthy.
A horse sheltering under a tall spreading deciduous tree in the middle of the field is at risk for electrocution from lightning and as the sun shifts in the sky the rays of the sun can still permeate the canopy, as can adverse weather such as hail or rain. It is more effective to add a run-in shed to the pasture that can provide shelter when needed by the horse.
A prefabricated run-in shed with tow hooks can be an invaluable resource for the horse owner as instead of it being stuck in one place, it can be readily moved around the property with a small tractor as seasons change. In the winter, its back can be placed to the North/North East wind to shelter from snow storms and in the summer it can be reversed with its back to the South, to shelter the horse from the sun as it arcs across the sky from East to West.
The run-in shed may be placed in fields further "afield" that are only accessible for summer grazing and then brought back closer to the homestead for winter months. It can also be moved to higher, drier ground during mud season.
Horses may shiver in winter and sweat in the summer, and this reflects their body is doing its job and managing its own thermoregulation. When the opportunity is provided for shelter, the horse is a good judge of whether or not it needs to utilize the option. Horses will 'weather the weather' just fine, with a little sensible help from their caregivers.
When hunting down a run-in shed look for a manufacturer with lots of available options for size, siding and roofing. Choose a run-in shed that is wider rather than deeper if it is to service more than one horse, to avoid any herd member becoming cornered by a pasture mate.
Lining the interior with wooden kickboards is a sensible option, and avoid using metal siding where the exterior walls will come into direct contact with horses to minimize the risks of an errant kick penetrating the metal and causing soft tissue injury.
Talk with an experienced manufacturer that knows horses and has proven experience delivering a high quality crafted product that provides a "to the penny" quote including delivery. Many larger firms have a supply of 'in a hurry, don't worry' options with stock on their lots that is available for immediate delivery without a building wait time.
By Nikki Alvin-Smith
This article is brought to you courtesy of Horizon Structures Inc., Atglen PA – Modular horse barn and indoor riding arena specialists. Horizon Structures also offers both residential and commercial kennels, coops, multi-use structures and playsets. Please visit https://www.HorizonStructures.com to learn more.
About Horizon Structures: One horse or twenty, there's one thing all horse owners have in common...the need to provide safe and secure shelter for their equine partners. At Horizon Structures, we combine expert craftsmanship, top-of-the-line materials and smart "horse-friendly" design to create a full line of sheds and barns that any horse owner can feel confident is the right choice for their horses' stabling needs.
All wood. Amish Made. Most of our buildings are shipped 100% pre-built and ready for same-day use. Larger barns are a modular construction and can be ready for your horses in less than a week. All our barn packages include everything you need -
Horizon Structures also sells indoor riding arenas, chicken coops, dog kennels, 1 and 2 car garages, storage sheds and outdoor living structures.
Headquartered in South-Central Pennsylvania, Horizon Structures, LLC is owned by Dave Zook. Dave was raised in the Amish tradition and grew up working in the family-owned shed business. He started Horizon Structures in 2001 in response to an ever-increasing customer demand for high quality, affordable horse barns.
For additional information about the company or their product line, please visit their website at https://www.horizonstructures.com
About Nikki Alvin-Smith: International and national published freelance writer and photographer in such world renowned publications such as The Chronicle of the Horse, Horse and Hound, Dressage and CT, Warmbloods Today, The Horseman's Yankee Pedlar, Reiter, The Equine Journal, Spur, Hoofprints, Horsin' Around, Horses All, Field & Stream, Western Horse and Gun, Pony Quarterly, Horses All Canada, Catskill Horse to name a few. Ghostwriting, blog services, PR/Marketing copy either direct with manufacturer or for agencies, copy editing and editor services also available. Nikki also produces catalog copy, white papers, e-books, corporate brochures and advertising copy for international corporations and PR/Marketing for celebrities.
As a Brit who has called the America home for the past 34 years, Nikki brings a unique perspective to the equestrian world. Nikki is also an accomplished Grand Prix dressage trainer/competitor, competing at international Grand Prix level to scores over 72% and is a highly sought clinician offering clinics worldwide. She has been a horse breeder/importer of warmblood and Baroque breeds for more than 25 years. Together with her husband Paul who is also a Grand Prix trainer, they run Willowview Hill Farm, a private dressage breeding operation and training yard in the beautiful Catskill Mountains of New York. Please visit https://nikkialvinsmithstudio.com/ to learn more about her affordable services.