Horses and dogs go together on horse farms like chocolate and ice cream. Unfortunately, a loose dog can also be a recipe for disaster around equestrian activities.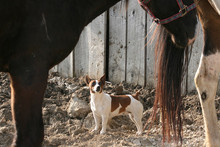 Unfortunately, a loose dog can also be a recipe for disaster around equestrian activitiesUnfortunately, a loose dog can also be a recipe for disaster around equestrian activities.
© 2017 by Val
If you've ever ridden a dressage test and had the bell rung by the judge requiring you to start your ride over due to a dog that joined in your circles at E, had to halt a lesson with a beginner student because a dog laid down on the outside track of the arena and refused to move or been chased on the trail by an over exuberant unleashed canine, then you know firsthand that loose dogs can be more than a slight interruption.
While we are all used to picking up horse poop to keep our riding surfaces and equine grazing areas clean, it's amazing how dog poop deposited in the arena somehow always finds the sole of your boot or the hoof of your horse. Yuk!
In all seriousness a cantankerous canine can wreck a rider's confidence when a horse bolts or bucks in fear. A dog innocently playing in the ring can distract rider, horse and trainer from their equestrian pursuits. Accidents can and do happen when your dog is free to roam.
A loose dog is also at risk of death or injury when left to its own devices. However much attention you think you give your dog, from a safety perspective for both horse and rider, your focus should be on the horse when you are actively engaged in equestrian work.
However diligent or well trained your dog may be, there will most certainly be moments when your attention deviates from your dog and it takes advantage of its freedom to explore.
Your pooch's toes and tail can be stomped on by even the kindest of horses stamping at flies, backing up unexpectedly or moving away from a visual or auditory trigger, requiring an expensive visit to the vet.
The inquisitive nature of dogs and their desire to test taste whatever they find within reach as they roam paddocks and stalls, can cause sincere problems when they ingest unhealthy food or chow down on errant objects. Certain horse dewormers for example, may be ingested by dogs if they consume horse manure from equines that have recently been administered dewormers.
This poisoning can result in sickness and even death of the dog. Supplements, fly sprays, medical supplies left dotted around the floor of the barn are all great targets for a canine's investigative skill set.
Vehicular traffic of tractors, trucks, cars and ATV's can also pose a hazard for your dog as it stretches out for a sleep in a sunny spot in the parking area and a driver backs up without looking.
So what do you do when your command to "Sit. Stay." is not enough?
The simple and affordable solution is to purchase a prefab kennel where your dog can be around all the fun equestrian activities without being subject to the potential risks involved at a barn or event.
The kennel can offer shelter from the heat of the sun and protection from bad weather, and a kennel with an enclosed pen is ideal for your dog to come and go in and out of his kennel at will and enjoy as much fresh air as it wants.
An older dog will appreciate the kennel as a quiet retreat where it can avoid unwarranted attention from visiting kids that want it to play continually. For a young dog the kennel provides an enclosure that prevents it picking up bad habits like jumping up at visitors or begging for food or learning that chasing horses in the field is good fun.
When the vet or farrier arrives they can work in peace without the unwanted distraction of a dog under their feet, and your dog will still be able to fulfill its guard duties of letting you know when folks arrive on site, if you place the kennel in a location appropriate for the purpose.
Kennels come in all sorts of shapes and sizes. Key ingredients need to be incorporated into the design and material mix to be certain that the structure is easy to clean, well ventilated, and of sturdy and safe build.
Residential and commercial grade kennels are available, and many of the former will include commercial grade features such as polyurea seamless floors for easy cleaning and durable construction.
Seek a company that knows the industry from nose to tail, and offers both grades of buildings so you can garner professional advice on all features available and ask about financing options, delivery timeframes and warranties.
This article is brought to you courtesy of Horizon Structures Inc., Atglen PA – Modular horse barn and indoor riding arena specialists. Horizon Structures also offers both residential and commercial kennels, coops, multi-use structures and playsets. Please visit https://www.HorizonStructures.com to learn more.
About Horizon Structures: One horse or twenty, there's one thing all horse owners have in common...the need to provide safe and secure shelter for their equine partners. At Horizon Structures, we combine expert craftsmanship, top-of-the-line materials and smart "horse-friendly" design to create a full line of sheds and barns that any horse owner can feel confident is the right choice for their horses' stabling needs.
All wood. Amish Made. Most of our buildings are shipped 100% pre-built and ready for same-day use. Larger barns are a modular construction and can be ready for your horses in less than a week. All our barn packages include everything you need -
Horizon Structures also sells indoor riding arenas, chicken coops, dog kennels, 1 and 2 car garages, storage sheds and outdoor living structures.
Headquartered in South-Central Pennsylvania, Horizon Structures, LLC is owned by Dave Zook. Dave was raised in the Amish tradition and grew up working in the family-owned shed business. He started Horizon Structures in 2001 in response to an ever-increasing customer demand for high quality, affordable horse barns.
For additional information about the company or their product line, please visit their website at https://www.horizonstructures.com
About Nikki Alvin-Smith: International published freelance writer and creative content producer. Ghostwriting, blog services, PR/Marketing specialist. Nikki also produces catalog and website copy, white papers, e-books, corporate brochures and advertising copy for a wide range of businesses.
As a Brit who has called the America home for the past 34 years, Nikki brings a unique perspective to the equestrian world. Nikki is also an accomplished Grand Prix dressage trainer/competitor, competing at international Grand Prix level to scores over 72% and is a highly sought clinician offering clinics worldwide. She has been a horse breeder/importer of warmblood and Baroque breeds for more than 25 years. Together with her husband Paul who is also a Grand Prix trainer, they run Willowview Hill Farm, a private dressage breeding operation and training yard in the beautiful Catskill Mountains of New York. Please visit https://nikkialvinsmithstudio.com/ to learn more about her affordable services.