The joy of purchasing a modular horse structure is that many of the smaller buildings such as run-in sheds and shedrow barns are delivered fully assembled. Easy. Instant. How awesome is that?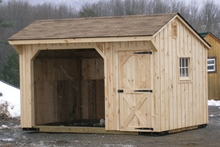 When you need to provide shelter from the weather for your horses, purchasing a run-in shed to go can be an affordable, superbly quick and easy way to start.
© 2010 by Alan Bernau Jr
Your only task is to have the site properly leveled, prepared and ready to herald this great event. Frankly, shed ground prep is not that complicated. For larger modular structures pillars are required, but either way, a good building company will provide you with detailed plans beforehand so you can be certain to have your site properly prepared.
What do you need to do to prepare your site?
Begin by removing the sod from the pad and level the dirt, then spread stone dust to a 3 or 4 inch depth. Ensure the pad is larger than the outside dimensions of the actual structure and add a slight elevation with the material to improve drainage. Once it is tamped down and flat and level you can move on to the pillars.
In the event you are adding a run-in shed to a pasture, with the possibility of moving the shed at some point in time, it is not necessary to provide the stone dust base. The shed base framing is pressure treated wood and can be set directly on the ground. A dry and level spot is all that is needed.
If you go the stone dust route it will provide a packed down base that horses won't be tempted to dig up and prevent the inside of your run-in shed from becoming a quagmire of mud during wet weather.
Pillars/Footers - It's all about the base!
For large, modular barns or shedrow barns with overhangs most modular barn building companies recommend footers be placed at your building's corners, under the barn foundation and around the building's perimeter every 10 to 12 feet. These pillars should be 18" in diameter and should be set 3-4' deep and 3-4" above ground level.
These pillars will prevent your building from settling unevenly. This can occur over time when the ground freezes and thaws.
Look for a modular barn building company that will automatically provide you with a footer diagram at no extra charge and work with an experienced company with good references with a friendly team of experts on staff who will also be happy to speak directly with your site contractor/excavator to address any questions.
Anchoring
All buildings should be anchored for the safety of your horses and indeed may be required by local authorities. The modular building company can complete this for you at the time of installation or provide you with a kit to do it yourself.
Due to weather issues in certain locations it may also be required and/or advisable to add a hurricane kit to the structure to ensure there are no 'Wizard of Oz' moments in its future. Look for a modular horse barn building company that offers a "hurricane kit" that preferably encompasses important structural upgrades e.g.
Roof rated for 120 m.p.h. winds.
Laminated headers and hurricane clips on the rafters.
Built-in tow hooks, along with an anchor kit, to further secure the building.
When you are in the process of obtaining your permit be sure to ask the relevant local authority whether this is either required or suggested.
Concrete center aisles and other flooring additions
What if you want to add a concrete flooring to your aisle? Cement should be poured after your barn is delivered. By pouring the cement aisle way after the barn delivery you ensure that it will properly 'fit' and will not be damaged during installation of the structure.
This is also a good time to review whether there is a need for drainage around the base of the building. If you want to add curtain drains, French drains etc., it is best left until after the barn is in place to prevent damage during installation. This is particularly important if you are in a low lying area, have certain soil types or expect heavy snowfalls that will melt off the roof to the outside of the building.
When you seek to provide shelter from the weather for your horses, purchasing a 'run-in shed to go' can be an affordable, superbly quick and easy way to start. Later you can always add gates or doors if you want to convert it into stalls. An instant 'horse in a box' option! No messy construction site and noise for weeks on end and no weather delays to worry about.
Modular horse structures offer you what you want, when you want and where you want it and the customization options are huge. Larger companies also offer good discounts on their lot liquidation programs, financing and full warranties so be diligent and make sure the manufacturer checks all the boxes.
Choose a company to work with that is experienced in all facets and types of structures and that offers you the option of visiting other similar structures in your areas so you can have a 'hands-on' experience of the quality of the structure and chat with the owners for a direct face to face reference on how the purchasing process went from start to finish.
Fall is around the corner. Don't let your horses be left out in the cold. Buy now before the snow flies.
By Nikki Alvin-Smith
This article is brought to you courtesy of Horizon Structures Inc., Atglen PA – Modular horse barn and indoor riding arena specialists. Horizon Structures also offers both residential and commercial kennels, coops, multi-use structures and playsets. Please visit https://www.HorizonStructures.com to learn more.
About Horizon Structures: One horse or twenty, there's one thing all horse owners have in common...the need to provide safe and secure shelter for their equine partners. At Horizon Structures, we combine expert craftsmanship, top-of-the-line materials and smart "horse-friendly" design to create a full line of sheds and barns that any horse owner can feel confident is the right choice for their horses' stabling needs.
All wood. Amish Made. Most of our buildings are shipped 100% pre-built and ready for same-day use. Larger barns are a modular construction and can be ready for your horses in less than a week. All our barn packages include everything you need -
Horizon Structures also sells indoor riding arenas, chicken coops, dog kennels, 1 and 2 car garages, storage sheds and outdoor living structures.
Headquartered in South-Central Pennsylvania, Horizon Structures, LLC is owned by Dave Zook. Dave was raised in the Amish tradition and grew up working in the family-owned shed business. He started Horizon Structures in 2001 in response to an ever-increasing customer demand for high quality, affordable horse barns.
For additional information about the company or their product line, please visit their website at https://www.horizonstructures.com
About Nikki Alvin-Smith: International and national published freelance writer and photographer in such world renowned publications such as The Chronicle of the Horse, Horse and Hound, Dressage and CT, Warmbloods Today, The Horseman's Yankee Pedlar, Reiter, The Equine Journal, Spur, Hoofprints, Horsin' Around, Horses All, Field & Stream, Western Horse and Gun, Pony Quarterly, Horses All Canada, Catskill Horse to name a few. Ghostwriting, blog services, PR/Marketing copy either direct with manufacturer or for agencies, copy editing and editor services also available. Nikki also produces catalog copy, white papers, e-books, corporate brochures and advertising copy for international corporations and PR/Marketing for celebrities.
As a Brit who has called the America home for the past 34 years, Nikki brings a unique perspective to the equestrian world. Nikki is also an accomplished Grand Prix dressage trainer/competitor, competing at international Grand Prix level to scores over 72% and is a highly sought clinician offering clinics worldwide. She has been a horse breeder/importer of warmblood and Baroque breeds for more than 25 years. Together with her husband Paul who is also a Grand Prix trainer, they run a private dressage breeding operation and training yard in the beautiful Catskill Mountains of New York. Please visit http://www.NikkiAlvinSmithStudio.com to learn more.