Is there a parasite resistance crisis brewing? The short answer is yes. The overuse of dewormers brings with it increasing likelihood of even larger equine internal parasite populations that have developed resistance to current dewormers on the market.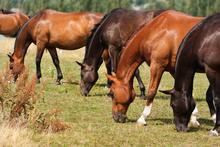 The only method of knowing the level of infection with worms in horses and whether they are dewormer resistant is by a Fecal Egg Count Test.
© 2017 by Lubos Chlubny
You've heard of Herbert Spencer's 'survival of the fittest' and Darwin's theories on evolution. Part of the survival process is successful reproduction. When you administer a dewormer product to your horse it will necessarily be most effective against the adult sexually active worms that are the most sensitive and it will leave behind those worms that are the most resistant. Now you have created a selective breeding situation. These resistant adult worms will now mate together to create more highly dewormer resistant worms. Whoops!
As a result, eventually the dewormer will become useless as a method for treatment of worms in that equine population and their environment. As horses move around from place to place, these resistant worms are spread on the pasture to other grazing herds.
Dr. John Byrd of Horsemen's Laboratory, a leading laboratory in testing equine fecal samples for worm egg counts (F.E.C.T), has this to share:
"There are only 3 classes of drugs available in the USA and there is already evidence that there is great deal of resistance to 2 classes in small strongyles. There is also some evidence of resistance in roundworms, and pinworms to the third class of drugs. Therefore we must make every effort to slow or stop further development of resistance.
Fecal egg counts are the most important tool to slow the development of resistance in horse parasites. Doing fecal egg counts and using the knowledge that the result provides to owners can determine when and which horses need to be dewormed. This will greatly reduce the selective breeding of parasites for resistance."
A blind man on a galloping horse can see the logic of this situation. You cannot tell if your horse is harboring a resistant worm population by looking at the gloss of his coat or the number of times he has succumbed to a colic attack. The only method to know the level of infection with worms, whether those worms are dewormer resistant, and whether any given equine individual is exposing another to infection, is by F.E.C.T.
Evidence based targeted dewormer protocols are more important than ever to the health of our horses. You can be part of the problem or part of the solution to slowing down the spread of dewormer resistance.
By Nikki Alvin-Smith
This article is brought to you courtesy of Horsemen's Laboratory Inc., Mahomet, IL. –
About Horsemen's Laboratory: Established in 1993 by John Byrd D.V.M., an experienced lifelong horseman and a graduate of the University of Illinois College of Veterinary Medicine. As an equine medicine practitioner in California for 13 years, Dr. Byrd served as ex-officio member of the board of directors of the Pacific Coast Quarter Horse Racing Association where he also served as the organization's official sales veterinarian. In addition, Dr. Byrd frequently officiated, as veterinarian for horse shows sponsored by the management of Orange County Fairgrounds in Costa Mesa, California. Dr. Byrd's extensive experience with horses led him to observe how a horse's health could impact performance leading to the founding of the specialist lab for equine fecal worm egg counts. Please visit https://www.horsemenslab.com/ to find out more about F.E.C.T. services available directly to the horse owner including; advice on equine fecal egg count testing; quick and easy purchase of test kits online; reporting and expert consultation services. Dr. Byrd enjoys sharing his wealth of knowledge of equine parasitology with horse owners from all walks of life, and is available to provide lectures/symposiums for your club, organization or event. Please contact Dr. Byrd via his website for rates and further information.
About Nikki Alvin-Smith: International and national published freelance writer and photographer in such world renowned publications such as The Chronicle of the Horse, Horse and Hound, Dressage and CT, Warmbloods Today, The Horseman's Yankee Pedlar, Reiter, The Equine Journal, Spur, Hoofprints, Horsin' Around, Horses All, Field & Stream, Western Horse and Gun, Pony Quarterly, Horses All Canada, Catskill Horse to name a few. Ghostwriting, blog services, PR/Marketing copy either direct with manufacturer or for agencies, copy editing and editor services also available. Nikki also produces catalog copy, white papers, e-books, corporate brochures and advertising copy for international corporations and PR/Marketing for celebrities.