ZetrOZ LLC, manufacturer of the Ultroz Elite, is pleased to announce the launch of a new hock wrap product designed for specific use with the UltrOZ Elite System.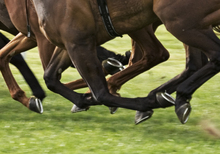 New Hock Wrap for equines offers features and benefits for enhancing the use and application of ultrasound technology. Name
"After much anticipation and testing, we are pleased to present our Hock Wrap as the newest accessory product now available for use with the UltrOZ Elite System. We are confident that our new Hock Wrap will offer new features and benefits for enhancing the use and application of our technology," states Bryant Guffey, CE
According to Dr. Holly Schmitt, DVM, "the hock is one of the most complex and hardest-worked joints in the horse's body, so it must be strong and sturdy to avoid injury. Much of what we ask our horses to do, whether high-performance dressage, reining, jumping, or simply going up and down hills on trail rides, requires strong and well-functioning hocks."
"The two most common hock disorders are distal tarsal osteoarthritis (bone spavin) and tarsocrural effusion (bog spavin)", continues Dr. Schmitt, "Treatment goals focus on alleviating pain with effective and long-term results to protect the health of the joint while also allowing the horse to perform its intended use. In the past, a common treatment relied on IA injections due to its effectiveness and low cost. However sport horses cannot compete with non-steroidal anti-inflammatories in their systems and not all horses respond well."
Low intensity ultrasound therapy (LITUS) offered by the UltrOZ Elite is emerging as a new treatment option that is seeing good results. UltrOZ™ Elite is a wearable ultrasonic therapy system for the treatment of common musculoskeletal conditions in horses. UltrOZ has been used successfully to treat Splints, Suspensory Ligaments & Tendons, Muscle strains, Stiff joints, Arthritis, and Bone fractures.