Inflammation is at the root of many equine related health and lameness conditions. All too often, we tend to just correlate inflammation with obvious redness, heat, swelling, and lameness, when in fact, the cellular process is additionally involved deeply in other conditions.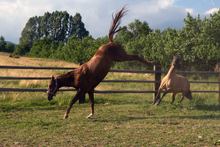 Cur-OST EQ Inflammend is a low dose, cost effective means of promoting a healthy inflammatory response in the horse impacted by a variety of conditions.
© 2016 by Ventura
Every condition in the horse from an obvious lameness, to metabolic conditions, laminitis, navicular syndrome, tendon complaints, allergies, and uveitis are deeply connected to the inflammatory process.
How one goes about addressing and managing this process can dictate the end result. Often, the most common choices are medicinal options including NSAIDs and corticosteroid injections, which can help but are only addressing a small facet of the entire process. This can leave a desire for better or more complete options.
Turmeric, including the active ingredient Curcumin, is one of the most heavily researched herbs in the field of inflammation. The ability of this herb, or bioactive, to address inflammation is incredible but the way it goes about this modulation is even more interesting.
Turmeric is just one of likely hundreds of herbs that impact a transcription factor, on a genetic level, which is directly connected to the production of many inflammatory proteins, not just one, which is seen with many medications. This effect can allow us to reach that patient and provide benefits on a much higher level.
Through the process of inflammation modulation, many facets of health can be directly impacted including:
General discomfort or aches
Circulation
Metabolic function and sugar regulation
Bone health and remodeling
Tendon health and healing
Foot health
Muscle pain and discomfort
Immune function
Digestive function.
Many owners and caregivers are familiar with the term, Curcumin, but despite it being the most researched active ingredient from Turmeric, the fact is that there are other very active phytochemicals present in the main root, which are often discarded. More recent research is indicating that Turmeric, as a whole, may be more effective at addressing the inflammatory response than Curcumin. The problem that comes with the use of Turmeric, especially in the horse, is the volume or dose that would be required. It is high enough to be cost prohibitive and also not very palatable to the average horse.
Are there solutions and better options?
At Nouvelle Research, we have been working with many types of Turmeric and Curcumin extracts in our research studies. Turmeric contains many types of active Curcuminoids and volatile oils that have demonstrated clinical and research benefits, not just with inflammation but overall health.
Ideally, to provide a higher level of benefit to the patient, we should take advantage of all aspects of the herb.
Cur-OST EQ Inflammend allows us to do just that!
Cur-OST EQ Inflammend utilizes:
Curcumin 95% extract
Turmeric Oleoresin (14% Curcuminoids, 25% volatile oils)
Resveratrol 98% (Japanese knotweed origin
Through utilization of all three ingredients, we are able to impact the inflammatory process through several aspects. The addition of the Turmeric Oleoresin extract is unique to this formula, and allows us to take advantage of the remaining curcuminoids in the herb along with volatile oils to benefit the inflammatory process further and enhance absorption naturally. Resveratrol is a known ingredient against the battle of inflammation, demonstrating numerous benefits on a cellular level.
The combination of the three ingredients creates synergism and benefits beyond a traditional Curcumin 95% extract or whole Turmeric root powder.
Cur-OST EQ Inflammend is a low dose, cost effective means of promoting a healthy inflammatory response in the horse impacted by a variety of conditions.
If you have a horse suffering from the effects of inflammation, make Cur-OST EQ Inflammend a part of your recovery process! It is a cost effective and targeted approach that can be used as a base for most regimens, or added to existing regimens with dose flexibility.
For more information Visit Cur-OST EQ Inflammend
To inquire further, please contact Dr. Tom Schell at tschelldvm@gmail.com
Nouvelle Research, Inc. is the manufacturer of the Cur-OST line of curcumin based equine supplements that target the inflammatory response. Dr. Tom Schell has been an avid researcher of inflammation, applying and conducting research with the goal of developing new options to help maintain health in the horse.
---
Press release provided by Nouvelle Research, Inc