Cavallo Q&A: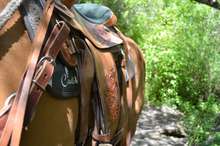 Too often, saddles pinch and restrict not only the muscles and skeletal structure of the horse, but they radically inhibit adequate blood and oxygen flow along the spine.
© 2020 by Cavallo New window.
Q: I want to make sure that my horse feels good when I ride. What can I do to make sure that my saddle feels good to my horse so my horse works at his best?
Cavallo President Carole Herder shares her advice….
A: Poor saddle fit doesn't just hurt horses, it also hurts riders. It's hard to find someone who hasn't experienced some form of back pain in their lives. Reports about whether riding horses helps alleviate the discomfort or makes it worse depends on who you talk to.
The important thing to remember is that when riding, you and your horse are a unit. If your horse's back is sore, it affects you also. It may not readily obvious but, be assured, it is difficult to be fluid on a rigid animal. It is difficult to relax when your horse is holding tension.
Keeping your own back elongated, supported and strong when constriction, concussion and poor biomechanics are under your seat is nearly impossible. Breathing fully and with regularity is tough, if your horse cannot. Too often, saddles pinch and restrict not only the muscles and skeletal structure, but they radically inhibit adequate blood and oxygen flow along the spine.
Comfortable Horses Are Willing
Encouraging non-resistance is a mutually beneficial goal in your riding partnership with your horse. True suppleness, freedom of movement and willingness can only be attained when you and your horse are pain-free. It goes both ways. If you've ever worn riding boots that chaffed or a helmet that pinches, you know the feeling.
It's just hard to concentrate, relax and enjoy your experience. In the past, we were told to collect our horses using our hands to push them into the bit and round their spine. We now know that unless there is a significant psychological or physical problem, comfortable horses are willing to please and forcing them is very simply counterproductive over the long term.
Trust, balance and communication can only exist in a pain-free environment. Your four-legged riding partner will be motivated and inspired when understood. It's not about fixing posture, it's about allowing freedom for suppling, extension, forward movement and full breath. Your ride depends on it.
Of course, we at Cavallo are all about ensuring happy hooves with Cavallo Hoof Boots, but did you know we are committed to support and benefit your horse's back too?
A saddle is a static object, but your horse is a living, dynamic creature. Even slight changes throughout the year in your horse's weight have a significant impact on the fit of the saddle. And, naturally, the saddle fit in turn significantly impacts your horse's experience. That's just common sense, of course.
But many riders forget that a horse normally undergoes slight alterations in weight and posture throughout the seasons and throughout his or her life. And we continue to put the same saddle/pad combination on her back, year in and year out.
Take the Test:
Is your saddle tree balanced or asymmetrical?
Are the stirrup bars placed perfectly even?
Are the panels stuffed evenly?
Is a displaced gullet uneven or developing lumps or bumps?
Has the wool flocking changed shape over time?
Do you feel centered and balanced at every gait?
Are there conches, screws or attachments that may be causing pressure?
One or more of these irregularities will result in an uneven saddle fit, which will be significantly improved with Cavallo Total Comfort System Saddle Pads. https://www.cavallo-inc.com/product-category/shop-saddle-pads/
How the Pad Works:
Technically advanced panels sit on either side of the spine to enhance the function of the saddle gullet, allowing your horse space to place his backbone and use his structure properly
Shock-absorbing foam provides a gentle massaging action, stimulating blood flow and circulation
Memory foam seeks to regain shape and bounds back in anticipation of the next impact.
Firm poly-fiber sheets create internal stability, especially in lateral performance. movements like barrel racing and reining
This construction allows complete utilization of the horse's scapula…and weighs only one pound!
Cavallo Total Comfort System Saddle Pads are designed to promote even distribution of weight to the weight-bearing longissimus dorsi muscles along either side of the horse's backbone. Our Four-Density Solution provides the ultimate in Saddle Pads, benefiting both horse and rider!
Shock absorbent: It's not shocking!
Saves the backs of both horse and rider
Promotes blood circulation (slow release memory of the open cell foam creates a gentle massaging action on the horse's muscle structure)
Improves saddle fit: fit for Excellence!
Contracts at pressure points, fills gaps
Enhances the saddle gullet (protecting the spine)
Cutback allows wither relief
Allows one saddle to be used on multiple horses
Compensates for the change of horses' backs (different levels of conditioning, natural development over the season and development over the horse's lifetime)
Four different material densities create a thinner pad with greater shock-absorption than a pad twice as thick
Allows more room for free movement of the scapula (shoulder blade)
Reversible: effective & stylish
New Zealand wool on one side, closed cell shock absorbing foam on the other
Use either side against the horse; it's your personal preference!
Soft and Lightweight
"The Cavallo Total Comfort System Saddle Pads help your horse increase his movement around the shoulder. The gullet system encourages horses to lift their spine and use themselves properly while taking pressure off the withers. This unique memory foam sandwich helps your saddle fit better.
In addition to the lightweight thinness of the Cavallo pad I love the reversible feature as I prefer to ride with the 100% New Zealand wool to my horse. Cavallo pads are the best pads in the world today." - Monty Roberts, the "Man Who Listens to Horses."
About the Source:
Carole Herder is the author of the #1 International Bestseller, There Are No Horseshoes in Heaven. She has been involved in horse health since 1993. Her company, Cavallo Horse & Rider Inc., develops, manufactures and distributes horse products in 26 countries. Herder designed and developed Cavallo Hoof Boots and Total Comfort System Saddle Pads. She presents trainings around the world to teach the benefits of keeping horses in a natural state. Herder is an honored recipient of the Royal Bank of Canada Woman Entrepreneur of the Year Award. She is a member of the Women's Presidents Organization, supporting female entrepreneurs in every industry.
Visit https://www.cavallo-inc.com to learn about the full line of Cavallo Hoof Boots. Want more info? Sign up here for our free newsletter: https://www.cavallo-inc.com/email-signup-AHP. Call (877) 818-0037 from the USA or Canada or call direct, (604) 740-0037.
---
Press release by Cavallo Horse & Rider Jenny@Cavallo-Inc.com