With 107 Group & Listed Race winners, including 52 Group 1 winners, the recently concluded Australian and New Zealand racing season was a record breaker for horses wearing FLAIR Strips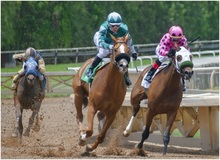 We are pleased to see continued growth in the number of top trainers that have taken the time to understand the science behind FLAIR Strips and make protecting horses' lungs a priority.
© 2019 by Flair Nasal Strips
Star performerMelody Belle finished with a record 5 Group 1 wins during the season. She is undoubtedly a strong candidate to be named NZ Horse of the Year. In her 20 career starts protected by FLAIR Strips, Melody Bellehas won 11 races and stakes of NZ$1.6 Million.
Other standout thoroughbred performers were Jamaican Rain (Group Winner in Australia), Prince Jabeel (City of Auckland Cup for Cambridge Stud owners Brendon and Jo Lindsay), Volks Lightning (trained by Cox Plate Winning Trainer Graeme Rogerson), and Our Big Mike (Pakenham Cup).
On both sides of the Tasman, harness horses wearing FLAIR Strips dominated Group 1 racing with The Fixer (NZ Trotting Cup), Tiger Tara (NSW Horse of the Year, Victoria Cup, Interdominion Final, Hunter Cup), Ultimate Sniper (Sires Stakes Final, Great Northern Derby, NZ Derby), Marcoola (Dominion Handicap), Turn It Up (Auckland Cup, Easter Cup), Rocknroll Lincoln (WA Pacing Cup), Spankem (Miracle Mile, Messenger), Our Princess Tiffany (Queensland & NZ Oaks), Colt Thirty One (Blacks a Fake Champion & Queensland HOY), and Sundees Sun (Rowe Cup, Anzac Cup, Harness Jewels) being the standouts.
The dominance of horses wearing Strips was exemplified on two of NZ's biggest harness race days. During the 12 races of the NZ Trotting Cup, all 12 winners wore FLAIR Strips including a 100:1 shot and NZ's most prestigious race "The Cup" winner The Fixer. On Harness Jewels day – a unique day with 9 Group 1 races for all the top performers during season - six winners wore Strips.
Champion trainers Mark Purdon and Natalie Rasmussen dominated harness racing in NZ and Australia with 115 Wins from 342 starters amassing NZ$4.5M in stakes. Mark was the first trainer downunder to use a FLAIR Strip in the Victorian Derby in Melbourne, and all the horses in Mark and Natalie's All Stars Stable wear Strips.
Flair Director of Operations, Hanna Hartman, stated: "We are pleased to see continued growth in the number of top trainers around the world that have taken the time to understand the science behind FLAIR Strips and make protecting horses' lungs a priority in the care and management of the equine athletes in their training programs."
About Flair, LLC: Flair LLC is dedicated to evidence-based products for health, welfare, and performance of horses. Based in Minnesota, Flair LLC is the maker of FLAIR® Equine Nasal Strips. Developed by veterinarians, FLAIR Strips are drug-free, self-adhesive nasal strips that support horses' nasal passages and promote optimum respiratory health of equine athletes at every level of competition.
FLAIR Equine Nasal Strips are clinically proven to: make breathing easier, reduce fatigue, conserve energy, quicken recovery, and reduce lung bleeding. More than eight clinical studies have been conducted on FLAIR Strips at leading equine research centers.
The Strips are clinically proven to: make breathing easier, reduce fatigue, conserve energy, quicken recovery, and reduce lung bleeding. For more information about FLAIR Strips, please visit http://www.flairstrips.com.
---
Press release provided by Hanna Hartman - FLAIR Nasal Strips