Spring showers bring May flowers but, they also bring Rain Rot to our equine friends. Rain Rot (or rain scald as it is often called) is a contagious bacterial infection that causes rapid hair loss and may also spread to other horses. This equine bacterial skin disease, also known as Dermatophilus congolensis, affects horses of every breed, color and age.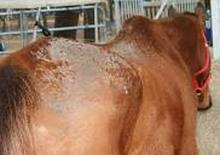 Rain Rot (or rain scald as it is often called) is a contagious bacterial infection that causes rapid hair loss and may also spread to other horses.
© 2017 by EcoEquine
Rain Rot is caused by a bacterial spore that penetrates a horse's skin through a wound (or even a small scrape) when there is excess moisture on the skin that peels away a horse's natural protective oil barrier. Via this entry point, these aggressive spores quickly find a home and trigger a horse's immune system to produce pus-filled bumps on the skin called pustules.
Affected areas will excrete a sticky substance which matts the hair together, forming scabs. Under the scabs, the area will be moist and pink and sore to the touch. It may begin as small tufts of hair loss (a scruffy, unkempt look to the coat) but these small lesions will quickly multiply and coalesce to create large patches of raw skin and scabs. If Rain Rot is not treated early, it can lead to a secondary infection.
There are different approaches to resolving Rain Rot, and many involve harsh, stinging chemicals and painful scab removal. Banixx® provides a simple 3-step solution that will keep your horse happy and pain-free, while quickly eradicating the bacterial infection.
Step 1 - Shampoo the affected area with Veterinary Strength Banixx® Medicated Shampoo. Banixx Shampoo is unique because it does not contain abrasive detergents (as most shampoos do) but instead delivers an antimicrobial wallop via a combination of chlorhexidine and surfactants that is topped with the nourishing, moisturizing, rejuvenating effect of Marine Collagen.
Treatment protocols suggest allowing the shampoo to remain on the body for at least 10 minutes for full effect, then rinse thoroughly and pat with a clean towel.
Step 2 - Saturate the entire area two times a day (AM and PM) with Banixx® Horse & Pet Care solution until the situation resolves. If possible, bring the horse indoors during inclement weather. Within a few days the scabs will naturally slough off, and the infection will begin to clear. Shampooing does not need to be done daily.
Observations made by veterinarians are that Banixx®, unlike many harsh anti-infective treatments, does not cause additional trauma to tissue (that is already compromised) by drying it out or stinging upon application. Though soothing on the skin and non-toxic, Banixx® creates an environment that is hostile to bacteria and enables your horse to harness its total energy into healing itself.
Step 3 – If your horse has been left with bare patches of skin, apply our NEW Banixx® Wound Care Cream ultra-enriched with Marine Collagen. As an infection fighter against multiple fungal & bacterial issues, Banixx® Wound Care Cream additionally contains sea-sourced amino acids (via superior Marine Collagen) that fortify fibers and repair damage while providing a deep-skin, gentle moisturizing action.
This unique Wound Care Cream is exclusively formulated to aid in the recovery of common equine skin infections while rebuilding and replenishing the skin. Banixx® Wound Care Cream is chlorhexidine-based and contains no alcohol or steroids. It's deeply-nourishing, soothing action is non-toxic with no added color or fragrance and can be used daily for spot treatments.
Once Rain Rot has infected a horse's skin, it can quickly spread to other horses as the bacterial spore will attach to blankets, saddle pads and grooming tools. Sterilization of these items is recommended.
With the perfect environment for Rain Rot in the Spring forecast, horse owners need to get the upper hand on this bacterial infection with good grooming practices coupled with Veterinary Strength Banixx® Medicated Shampoo enriched with Marine Collagen, Banixx® Horse & Pet Care Solution and our NEW Banixx® Wound Care Cream ultra-fortified with Marine Collagen.
Banixx® has been recommended by Chris Newton DVM of Rood & Riddle and chosen by Horse Journal as Editor's Choice & Top Product of the Year. Banixx® fights infections associated with wounds, fungus, scratches (mud fever), rain rot/scald, ringworm, hot spots, dog/cat ear infections, abscesses, thrush, white line, bacterial & fungal infections, and secondary infections from bug bites and summer itches.
While treating a wide variety of infections, Banixx® is non-toxic, odorless, and colorless and does not sting.
For more information on Banixx® products, please visit www.Banixx.com
---
Press release provided by Bob DeMeulemester, President Banixx® Horse & Pet Care