SmartPak is excited to introduce the newest SmartHoof formula to their line of exclusive Smart Supplements. SmartHoof Ultimate provides a combination of ingredients to support four areas of hoof health, making it the most comprehensive supplement formula available.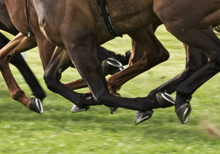 SmartPak introduces new SmartHoof Ultimate for four important areas of horse hoof health.
© 2016 by Mark Higgins
"As the old saying goes – no hoof, no horse," said Casey Fleming, Senior Manager of Product Development at SmartPak. "When developing SmartHoof Ultimate, we worked closely with hoof care professionals, who are out in the field, identifying areas of support that they see their clients needing most.
This formula is built to provide the most comprehensive combination of ingredients for the ultimate level of support!"
For healthy hooves, there are four areas of support to focus on:
Hoof horn/wall quality and rate of growth
Healthy circulation to the foot
Combating discomfort and inflammation associated with exercise, conformation, and aging
Bone health
SmartHoof Ultimate is the perfect choice for horse owners looking to provide support for their horses who may have hoof health challenges. Horses faced with poor quality/weak hoof horn (aka hoof wall) will benefit from ingredients such as biotin, key minerals, collagen, lecithin, silica, and essential amino acids (methionine, threonine, lysine), all of which have been shown to support hoof quality and growth.
Proper circulation to the foot is also important, and ingredients such as L-arginine, bilberry extract, and Flo-Ox® support normal blood flow to the foot.
Some horses may also struggle with heel soreness, shortened stride, or thin sensitive soles. In addition to the ingredients previously listed, other Ingredients such as turmeric, yucca, boswellia, bromelain, MSM, and omega 3 fatty acids from flaxseed assist to combat discomfort and inflammation associated with exercise, conformation, and aging.
There may also be times where a veterinarian or farrier recommends circulatory support for the feet or bone support, related to the feet, which is why SmartHoof Ultimate also includes calcium, magnesium, boron (Cinq-B™), Vitamin D, Vitamin K for bone health.
As part of the company's mission to support healthy horses, SmartPak is pleased to be returning as an educational partner for the 2019 International Hoof Care Summit in Cincinnati, OH from January 22 - 25. SmartPak will officially be unveiling SmartHoof Ultimate, and will have experts on hand to answer any questions regarding hoof health and beyond.
To learn more about SmartHoof Ultimate, visit www.SmartPak.com or call 1-800-461-8898 to speak with a supplement expert who can help set your horse up on the right program.
About SmartPak
From the feed room to the tack room, SmartPak offers innovative solutions to help riders take great care of their horses. SmartPak was founded in 1999 with the introduction of the patented SmartPak supplement feeding system. The revolutionary, daily dose SmartPaks are custom-made for your horse, individually labeled and sealed for freshness. With the success of this simple and convenient feeding system, SmartPak has continued to expand its offering of quality products, including its own line of more than 55 supplement formulas called SmartSupplements, and a wide variety of tack, equipment, and supplies.
The company has grown rapidly each year and is now the largest retailer of equestrian products in the United States. SmartPak's success has been powered by a passion for delivering an unbeatable customer experience, and the company has been recognized with a Bizrate Circle of Excellence award eight years in a row, as well as receiving an "Elite" rating from STELLAService. A nine-time Inc. 500/5000 honoree, SmartPak is the only equine company ever named to the Inc. 500 list.
---
Press release provided by SmartPak