ThinLine Global introduces the Flexible Filly Slow Feeder Muzzle. Unlike the typical heavy, hard, and "cage-like" apparatus so often seen today, the Flexible Filly Muzzle has been redesigned from the ground up. Its light, thin appearance contradicts the extreme durability of the polymer material it's constructed with.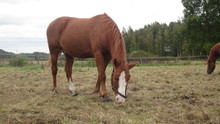 Unlike any others, the flexible Filly Muzzle is made of supple, lightweight material and features an "Open" design.
© 2010 by Bubblejewel96
Built to be flexible so the chance of the muzzle getting snagged is reduced, it's rated to break before your turnout halter. The supple material is also soft on equine teeth, gums, and lips, preventing tooth wear and sores, and it's fungal, mold and UV-resistant.
The muzzle's open design features triangular cut-outs that allow for extra airflow. For this purpose, when you attach the muzzle to the horse's halter, be sure that the cut-outs appear on either side of the horse's mouth, not over his nose and under his chin. Ten, low-profile zip ties come with the muzzle so it can be easily and securely fastened to the horse's halter.
"Traditional" muzzles are rigid and present a variety of problems. They can rub or chafe a horse's nose or chin, get full of dirt or other debris, and become hot and uncomfortable. However, for owners of horses or ponies that are Insulin Resistant or overweight, muzzles are a way of life.
For them, the worry of colic or laminitis (founder) is constant. Now, with the Flexible Filly Muzzle, owners can choose this lightweight, comfortable option as a means to limit their horses' grazing.
"The Flexible Filly Slow Feeder muzzle is something horse owners won't feel guilty about putting on their horses," says Elaine Lockhead Castelao, ThinLine Founder. "We approached the design of this muzzle from the perspective of the horse's comfort and safety and the owner's peace of mind and believe after several years of testing we've created a muzzle that's effective, lightweight, flexible, durable, and easy to care for."
The muzzle also slows down speedy eaters, can help curb minor cribbing problems, and keeps horses from chewing on leg wraps, wood, or blankets.
Flexible Filly Slow Feeder Muzzles are available online at www.thinlineglobal.com or at select equestrian retailers.
---
Press release provided by Elaine Lockhead Castelao - ThinLine Global