Upper-level three-day event rider and professional trainer Brit Vegas Gengenbach only learned about Equiwinner in 2021, but the results she's seen on multiple horses have made her a loyal customer.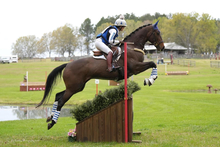 Equiwinner's non-transdermal patches contain naturally balanced electrolytes that, rather than transferring electrolytes to the horse, the horse's body recognizes the electrolytes in the patches.
© by XPress Foto New window.
This week Brit, along with hundreds of other horses and riders, will be competing in the Retired Racehorse Project's Thoroughbred Makeover, the world's largest training competition for recently retired racehorses, and the Thoroughbred Incentive Program (T. I. P.) Championships. Both of her horses competing at these events have benefitted from Equiwinner.
"I originally gave these patches a shot when I was looking for alternatives to balance my intermediate horse, Zodi's electrolytes. He experienced a bad tie up a few years prior and can really be picky about added supplements so this was an excellent option," said Brit, who trains under the banner of Royal Fox Stables in Milford, Nebraska.
Compared to most equestrians, Brit Vegas Gengenbach sits on more (many more) horses than the average rider each year. In addition to campaigning her own horse through the Intermediate level of eventing and several others at the lower and middle levels, she also runs a bustling training and sales business, retraining and selling between 50 and 70 Thoroughbreds per year.
With eight to twelve horses in training at any given time as they transition from being racehorses to sport horses, she has seen her fair share of issues arise as they go from one career to another or work their way up the levels. One of the most common problems she sees with both young and seasoned horses alike is muscle soreness and, in more extreme cases, tying up.
"After seeing excellent results on my two upper level horses Zodi and Park, I started to use them on some of the horses coming off the track that needed a little extra help transitioning. My 2022 horse, Singoneformama, came in thin and body sore. These patches really showed a noticeable difference on the muscle tightness in her back after just 2 days of use. I have since started using them on many coming off that may be in a heavier training load like my 2023 RRP entry, Foolish Dreams. He just retired from racing at the very end of July so had a jam packed few months getting enough Eventing and Fox Hunting knowledge to compete here in October," said Brit.
Equiwinner's non-transdermal adhesive patches contain naturally balanced electrolytes that, rather than transferring electrolytes to the horse, the horse's body recognizes the electrolytes in the patches and responds to them. This easy 10-day treatment gets electrolytes working properly for optimum electrolyte balance as nature intended.
In addition to muscle soreness and tying up, Equiwinner has shown to significantly help horses dealing with dehydration, anhidrosis, exercise-induced pulmonary hemorrhage (EIPH), headshaking, skin issues and more.
"Horses go through an incredible amount of change as they transition to their careers after racing. From changes in their diet and schedule to how they are ridden and the different muscles they use, it can cause a variety of side effects including muscle soreness and dehydration," said Barbara Socha, owner of Signal-Health, the North American distributor of Equiwinner. "One 10-day treatment of Equiwinner helps to support them through this process by optimizing how their body uses electrolytes, leading to better hydration and muscle suppleness."
To learn more about Equiwinner or to try them on your own horse, go to signal-health.com. Equiwinner can also be purchased at retailers throughout North America, including Big Dee's, FarmVet, and many local tack shops.
About Equiwinner
Equiwinner is a patented easy 10-day treatment with non-transdermal patches restoring optimum electrolytes balance in a horse's body. By restoring the balance and proper utilization of electrolytes in a horse's system, Equiwinner patches have proven to successfully reduce and/or fully resolve bleeding (EIPH), non-sweating (anhidrosis), tying up, headshaking and other chronic equine ailments. To learn more, visit signal-health.com
---
Press releae by Barbara Socha