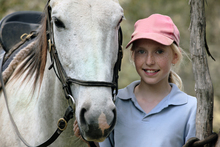 Equine Lameness For The Layman, MVP's Levelor, and Shires Equestrian's bell boots earned great reviews and are featured in Good-Horsekeeping.
© 2016 by Christopher Meder
Three equine products have earned great reviews this month and are featured on the Good-Horsekeeping Product Review Page of www.equineseniors.com, according to Laurie Cerny, the website's editor.
"Trafalgar Square has once again hit a home run with their book, Equine Lameness For The Layman." It should be on the bookshelf of anyone who works with horses," Cerny said. "The charts, diagrams, and video case studies really elevate this book to reference status."
Med Vet Pharmaceuticals (MVP)'s Levelor also tested well and received a positive review. "It was easy to feed and it made a noticeable difference in the test mare's attention span and demeanor while she was cycling," Cerny said. "It's a nice, natural alternative to using hormones to regulate a mare's cycle."
Shires Equestrian Products also received an excellent review of their Arma Over Reach (Bell Boots). "They fit great, they're made well, and they come in a variety of colors," Cerny said. "The added fleece is a nice feature to prevent rubbing around the pastern."
To read the full reviews of these products go to equineseniors.com/product-reviews
Equine Seniors is devoted to the care and competition of equine senior horses. Find more articles and resources on caring for the senior horse, as well as product reviews, at the website.
---
Press release provided by Laurie Cerny - Equine Seniors