If you could minimize the chance of colic in your horse, feed less grain, satisfy the picky eater and provide a more consistent energy source for your horse, would you? Are puffed grains all they are 'puffed up' to be? The answer is a resounding yes. Here's why.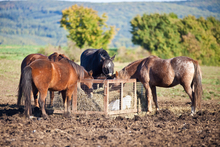 Of the various processing methods puffed grains incorporate the highest level of digestibility for the horse, plus help to minimize the risk of colic, founder and laminitis.
© 2017 by Sedin
Research comparing different processing methods of cereal reveals that the type of treatment starch ingredients in products such as oats, corn and barley receive, sincerely affects their digestibility. Of the various processing methods puffed grains incorporate the highest level of digestibility for the horse based on several factors.
During the process of puffing a grain, all the granules are fully gelled thus making the starch safe with a 87-95% digestibility factor versus an average of 5-50% in other processes.
Why do we call this 'safe' starch? The gelatinization that occurs when grains are puffed, breaks down the intermolecular bonds of starch molecules in the presence of water and heat to disband the membrane and compact structure of the starch entirely, without sacrificing any nutritional quality of minerals and vitamins.
The horse is able to digest this safe starch almost entirely in its foregut. This means there is less risk of colic associated with hindgut fermentation of undigested grains. As the feed is properly digested, the horse may be fed less quantity, further reducing the risk associated with colic. This is especially important for advanced level performance horses as they are often fed large quantities of grain to sustain their ability to perform at an intensive energy level.
The slower pace of travel of the puffed grain through the stomach and small intestine maximizes the opportunity for enzymes to utilize the beneficial nutrients still the feed. The presence of the grain for longer periods in the horse's foregut also decreases the risk of ulcers. The slower passage of the puffed grain additionally minimizes swings in sugar and starch levels, avoiding the rapid release that would otherwise occur immediately after graining, which is critical for insulin resistant horses.
A puffed grain also offers a lower viscosity feed, which provides more chewing satisfaction for the horse and consequently it encourages more saliva production. Saliva also aids in the digestive process.
Minimizing the risk of colic, founder and laminitis, with the added benefits of sustained energy release and less quantity of grain being fed the horse provide an incentive for horse owners to make the switch to a puffed grain feed. Cavalor® is the only feed company in North America that uses this patented preparation process and has been supplying horses from Olympic icons to beloved backyard retirees for many years.
When you put your trust in the Cavalor® brand rest assured that their research has led to demonstrated effectiveness across their line of feed and supplements, and all products are guaranteed 100% doping-free.
For more information on the full range of products, that include feed and supplements for sport horses, horses requiring special care, breeding stock, recreational horses and horses on rest that are available from Cavalor® please visit http://www.cavalor.com/us-en
This article is brought to you courtesy of Cavalor North America, Dalton, GA– Kindly visit their website at http://www.cavalor.us to learn more. Dealer inquiries are welcomed.
About Cavalor® North America, Dalton, GA: Cavalor is a global brand that can justifiably be called the world leader in equine nutrition for high-performance horses. Cavalor® products are available in more than 50 countries worldwide and are used by champion riders. Cavalor® offers a complete line of horse feed, supplements and care products.
The company's values are: Innovation - Quality - Results. They dedicate themselves to inventing, manufacturing and distributing the best quality and most effective equine nutrition products in the world for the health, performance and happiness of all horses, from a foal's first steps to retirement.
Please visit http://www.cavalor.us to learn more about their top quality line of products used by advanced riders for their high performance horses, 'when the result counts.'
About Nikki Alvin-Smith: Internationally published freelance writer in such world renowned publications such as The Chronicle of the Horse, Horse and Hound, Dressage and CT, Warmbloods Today, The Horseman's Yankee Pedlar, Reiter, The Equine Journal, Spur, Hoofprints, Horsin' Around, Horses All, Field & Stream, Western Horse and Gun, Pony Quarterly, Horses All Canada, Catskill Horse to name a few. Ghostwriting, blog services, PR/Marketing copy either direct with manufacturer or for agencies, copy editing and editor services also available. Nikki also produces catalog copy, white papers, e-books, corporate brochures and advertising copy for international corporations and PR/Marketing for celebrities.
As a Brit who has called the America home for the past 38 years, Nikki brings a unique perspective to the equestrian world. Nikki is also an accomplished Grand Prix dressage trainer/competitor, competing at international Grand Prix level to scores over 72% and is a highly sought clinician offering clinics worldwide. She has been a horse breeder/importer of warmblood and Baroque breeds for more than 25 years. Together with her husband Paul who is also a Grand Prix trainer, they run a private dressage breeding operation and training yard in the beautiful Catskill Mountains of New York.
Please visit https://nikkialvinsmithstudio.com/ to learn more about her affordable services.